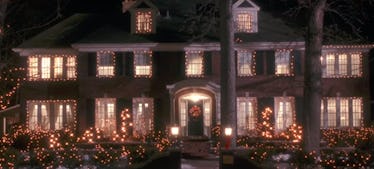 This Is What Kevin McCallister's House In 'Home Alone' Would Look Like Today
'Tis the season for cozy nights spent at home, watching your favorite Christmas movies in your PJs. It's time to stream How the Grinch Stole Christmas, The Holiday, and Home Alone. Of course, your movie night wouldn't be complete without gingerbread cookies and hot cocoa. While you're rewatching these classic films, have you ever wondered what the houses in popular Christmas movies would look like today?
Well, interior design startup, Modsy, is back at it again with home decor inspiration that's both merry and bright. If you're unfamiliar with Modsy, it will be your new interior design BFF. All you need to do is take a few pictures of your room, fill out a design quiz, and in just about no time, you'll get a custom plan for your home. Modsy will even help you see your dream space with furniture from popular brands in a 3D model. Though, if your dream is to have a home like the one in your favorite Christmas movies, you have to check out these five holiday designs.
From Home Alone to White Christmas, each one of these Modsy designs gives a little nod to an iconic holiday film. After looking at these, they'll have you dreaming of not only a white Christmas, but a new living space for the holidays.