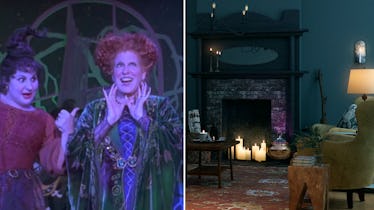 Here's What The Houses From Your Fave Halloween Movies Would Look Like Today
By now, you've probably streamed your favorite Halloween movies about a dozen times this season. It's a given that Hocus Pocus has been set on repeat since Oct. 1, and you have plans to watch Beetlejuice with the girls Friday night. But have you ever wondered what the houses from classic Halloween movies would look like today?
Maybe you're looking to step up your interior design game with an apartment makeover. If you're inspired by films like Hocus Pocus and The Nightmare Before Christmas, you'll love what interior design startup, Modsy, has put together for some incredibly spooktacular vibes.
Modsy is awesome if you're looking to redesign your space, but need a little visual inspiration. Where some of us are used to creating vision boards of things we like and winging it from there, Modsy will help create a lifelike picture of your space (complete with furniture from popular brands) to take out any of the guesswork on how it's actually going to turn out.
So, if you're just as Halloween-obsessed as me, these five Halloween homes will give you the creative inspiration you need to revamp your home. Modsy has created them based off of some of your favorite movies and TV shows, so get ready to feel the nostalgia.