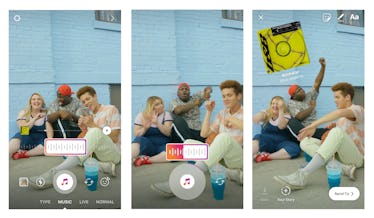 The Amount Of Song Choices Available For Your Instagram Story Is Overwhelming
Instagram
There have been multiple times where I wished I could add a little bit of music to my Instagram Stories. Since it's never been possible within the app, I've usually resorted to awkwardly blasting my favorite song on an external speaker and hoping my phone would pick up the recording. Sometimes it worked, and sometimes it didn't. Thankfully, the days of trying to pull off a movie-like soundtrack in the background of my IG Stories are over, because the app has made it possible to add music internally. That's right: Instagram released a new feature on Thursday, June 28 that lets users add songs to their Story content. If you're wondering what songs you can add to Instagram Stories, rest assured that the options are basically endless.
It sounds pretty cool, right? Whether you're trying to set the mood with a somber tune or hype your followers up with a bop, you can do so within the app. When you think about it, adding a song to your Instagram Story is basically like adding a soundtrack to your life, so you better pick a good tune. According to Instagram, users will have "thousands" of songs to choose from within the app, all thanks to Facebook Inc. partnering with music companies around the world. In other words, you'll be able to find your favorite hit-making artists directly through Instagram and add their music to your Story. As long as their music is in Instagram's library, you'll be able to add it. (You already know I'll be adding Taylor Swift every other Story I post.)
Thankfully, adding a song to your Instagram Story is fairly simple. (Trust me, the steps you need to take will seem very familiar.) First, take a photo or video for your Story, and then press the "Sticker" icon in the upper righthand corner of your screen. Then, you'll see the tray of sticker options that you're probably very familiar with by now. Amongst those options will be a new "Music" icon. Click on it, and the app will bring you to a brand new screen where you can choose which tune you want to feature on your Story. To choose a song, you can search through Instagram's music library, or you can browse through three categories that include Popular, Moods, and Genres. TBH, the options are kind of overwhelming — but I love it.
Before you choose a song, you can press the "Play" button for a preview of the music. If you're sold on the selection, you can choose a particular clip of the song by rewinding or fast-forwarding the track. For example, if you're feeling the chorus of Demi Lovato's "Tell Me You Love Me," you can feature it in your Story without waiting through any verses.
Once you've added a song of your choice, IG users can automatically hear it playing when they view your Story. In addition to hearing the song, they will also be able to see a sticker that shows the artist's name and their song title. If you think about it, this is a great way to discover new music while simultaneously scrolling through Stories.
If you'd rather add music to your Story before recording a video, there's an option for that, too. According to Instagram, users can choose a song to play on their Story prior to taking actual video footage. In order to do so, open your in-app camera and hit the new "Music" option underneath the record button. Then, you can select a song you want, and choose which clip of the track suits your Story. After you've selected a tune, record your video and let the song play in the background. (Keep in mind this option is only available for iOS users as of right now, but Android users will be able to do it soon, too.)
So, what are you waiting for? Make sure your Instagram app is updated to version 51, and get in on the musical fun. I don't know about you, but I can't wait to add a digital soundtrack to my IG life.