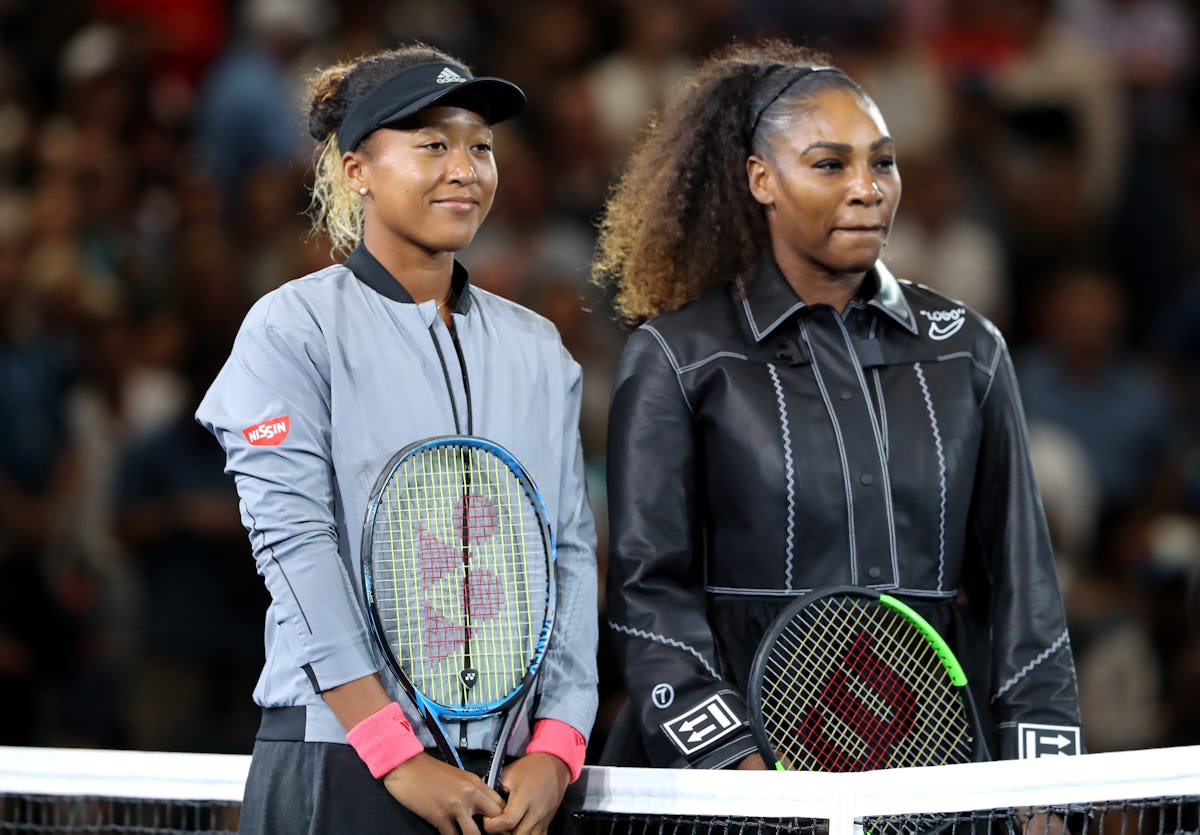 What Serena Williams Whispered In Naomi Osaka's Ear At The U.S. Open Is So Inspiring
Elsa/Getty Images Sport/Getty Images
Naomi Osaka is basically a household name now, but she's definitely not letting that go to her head. In a recent appearance on The Ellen DeGeneres Show, Osaka came off as very shy and humble despite her recent win on the tennis court against Serena Williams. While there was a whole bunch of drama during the game, Osaka kept her head down and her focus totally on point. And the payoff was amazing. Not only did she walk away with a boatload of cash and a trophy, Osaka also had a private conversation with Williams as the cameras rolled. Ever the probing talk show host, DeGeneres asked what Serena Williams whispered in Naomi Osaka's ear. The answer to that is really sweet.
"She said that she was proud of me and that I should know that the crowd wasn't booing at me," Osaka told DeGeneres during her Sept. 12 appearance on the show.
As you may have heard, the crowd was really booing the drama on the court. During the U.S. Open match between Williams and Osaka, the umpire made what many considered to be bad calls on Williams' part. That led to Williams giving the umpire an ear full and demanding an apology.
Osaka admittedly ignored the drama unfolding before her, but that didn't make her big moment any less unpleasant. When DeGeneres asked Osaka if she thought the crowd was booing her as she accepted her winnings, the 20-year-old tennis player confirmed that she did.
"At the time, I did ... think that they were booing at me," Osaka revealed. "I couldn't tell what was going on, because it was just so loud in there. It was a little bit stressful."
Watch Osaka's interview on Ellen:
Thankfully, Williams had the good sense to ease Osaka's anxiety about the situation, which proves just what a good sport and great person Williams is.
What Williams whispered wasn't all Osaka revealed on Ellen, though. She also talked about what she's going to with her prize money, which amounts to a whopping $3.8 million. When DeGeneres suggested she buy a car, Osaka revealed what she'd really like to do with the cash.
"I would rather buy my parents something, I don't know … I'm going to buy them a TV so they can watch your show," Osaka jokingly told DeGeneres.
And that, of course, garnered lots of cooing from the audience because how sweet is that?!
The tennis player also said that her favorite singer is Beyoncé and that her celebrity crush was in Black Panther.
"I don't know his name, but he was in Black Panther but he was the villain," Osaka said of her celebrity crush.
"Oh, Michael B. Jordan?" DeGeneres asked.
When Osaka confirmed, DeGeneres offered to hook them up. She even took a selfie with Osaka to text to Jordan, which Osaka was super embarrassed about. Osaka left the show with more than a selfie, though. DeGeneres also gifted her with a huge TV for her parents so they can finally watch her show.
Osaka seemed really surprised by all that happened during the interview, but you could tell she was so appreciative of everything DeGeneres was doing for her. Between Williams and DeGeneres, Osaka's got some of the world's greats on her side!