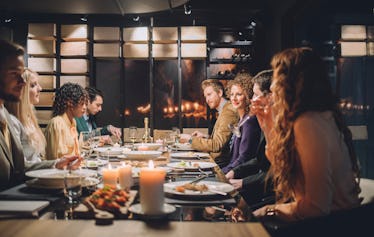 These 10 Restaurants You Love Are Open On Thanksgiving & Will Cook So You Don't Have To
I hope I'm not catching you off-guard when I say that Thanksgiving is just around the corner. In fact, it's less than 24 hours away. Yep, tomorrow is Thursday, Nov. 23, and that means that you should probably have your dinner plans set. If you're still thinking of ways to avoid doing all the cooking on turkey day, then you are in luck. Just take your pick from this list of restaurants that are open on Thanksgiving day, and you can enjoy your turkey dinner without having to figure out what the heck you do with gizzards.
While some people can get great joy out of preparing a Thanksgiving feast, others might find that opening a can of cranberry sauce is pretty much all the effort they're willing to put forth on Thanksgiving day. That's perfectly fine, because different strokes, right? The latter group of kitchen novices will be giving thanks for the restaurants that are open this Thanksgiving.
You might have thought that restaurant choices on a holiday would be limited, but you actually have quite a variety of restaurant options from which to choose, according to a list compiled by Money.
If you're in the mood for somewhere with a drive-thru option, then you can head to one of the following fast-food powerhouses.
1. Burger King
Most Burger King locations will be open on Thursday, Nov 23. You may want to check your location's holiday hours, though, because they may vary from the normal hours. As long as you make sure your Burger King is open, then you can "have it your way."
2. McDonald's
Similar to Burger King, most McDonald's locations will be open on Thanksgiving. Holiday hours may vary, though, so you should check before head out to grab a festive Big Mac.
Traditional turkey dinners are a Thanksgiving option at these following restaurants.
3. Applebee's
Select Applebee's locations are open on Thanksgiving day, and they are serving up a special meal just for the holiday. You can get Thanksgiving meals with all the classic foods you love like turkey, mashed potatoes, gravy. Once again, not all locations are open on Nov. 23, so make sure to call and check before you dine.
4. Boston Market
If you want to enjoy Boston Market's Thanksgiving menu in the restaurant, you can savor the turkey dinner at your local restaurant. You can also get a turkey dinner will all the fixings to-go for $119.99 if, say, you have a house full of family who won't budge from watching the football games. Remember to check your location's holiday hours before you head out.
5. Cracker Barrel
Cracker Barrel is offering their Turkey and Dressing Meal for $12.99 for adults ($7.99 for kids) when you dine-in this Thanksgiving. You can get a family-sized version of the Turkey and Dressing Meal To-Go starting at $67.99. Do you have more cousins than you can count on your hands? Grab the Holiday Family Meal To-Go for $99.99
6. Old Country Buffet
From 11 a.m. until 6 p.m., you can savor the flavors of the holiday — including carved turkey — at Old Country buffet restaurants. The menu also features steak, carved roast beef, carved ham, fried chicken, if turkey isn't really your thing. More of a sides fan? There's mashed potatoes and corn bread to keep you happy.
7. IHOP
Does your family have differing tastes? Well, IHOP could be the answer to your turkey dilemma. The restaurant known for its pancakes will be serving up a roasted turkey dinner for the traditionalists, and the out-of-the-box Thanksgiving indulgers can enjoy what strikes their fancy from the regular menu. Again, make sure to check your location's hours for the holiday.
If you want wings, pizza, or burgers, then the following restaurants are for you.
8. Hooters
Chicken might not get top billing on Thanksgiving day, but you can still enjoy your favorite hot wings at most Hooters locations on Thursday, Nov. 23.
9. Pizza Hut
Just because it's Thanksgiving doesn't mean that you have to forgo your love of pan pizza. Most of the Pizza Hut locations are open on Thanksgiving to provide you a cheesy turkey alternative.
10. TGI Fridays
The chain you know and love for having some of the tastiest appetizers around (hello, Spinach Queso Dip) will have select restaurants open on Thanksgiving day. Check with your favorite location to make sure they're open on Nov. 23.
Oh, and if you're tasked with hitting up multiple Thanksgiving celebrations this year, you can always fuel up with a coffee at Starbucks, since most locations are open (with varying hours) on Thanksgiving, Money reports.
While Thanksgiving tends to center around the cooking and the food, it's really all about spending time with friends and family that mean the most to you. So don't feel bad about skipping the kitchen stress this year, because now you know there are some very tasty options for Thanksgiving dining that don't require any preheating, peeling, or mashing.
Check out the entire Gen Why series and other videos on Facebook and the Bustle app across Apple TV, Roku, and Amazon Fire TV.