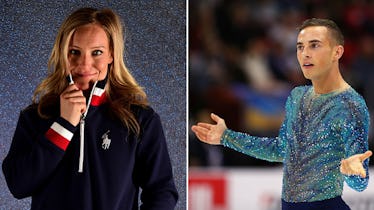 8 Olympic Athletes Reveal Their Favorite Snacks & Wow, My Mouth Is Watering
Getty Images/Harry How/Staff/Tim Bradbury/Staff
Close your eyes and imagine you're balancing your stance at the tippy top of an alpine. When you look down, all you see is land blanketed by snow, and the twists and turns through flag-markers you're about to dodge, hopefully unscathed, before reaching the finish line below. Win or lose, you know you're going to feel hungry AF. At least, this is what I assume athletes are thinking in between competitions because, think about it, what Olympic athletes eat for snacks has to hold them over through races and award ceremonies. That's a lot to handle in a matter of hours, and I don't know about these guys, but I would definitely need some sustenance to keep up with it all.
Personally, I am a bonafide snacker. It's like I'm never not hungry. Seriously, ask anyone in my family, and they can attest to my grazing habits. And it's not like I'm doing quadruple backflips in the air 20 times a day either. All I do is sit on my butt and write for a living. Maybe it's the mental focus that triggers my constant hunger, but I can only imagine how much more intense the cravings would be if I had to work out several hours a day every day.
As for Olympic athletes, though, they're living that routine day in and day out. Training season is harsh, and competition is crack-down time, so not only are these athletes in dire need of nutrition, but they also need options that are readily available and quick to consume because, after all, time is of the essence, and the 2018 Winter Olympics are closing in. Here are a few snack ideas straight from the Olympic athletes themselves that they say fuel their fire and keep them fighting for gold.