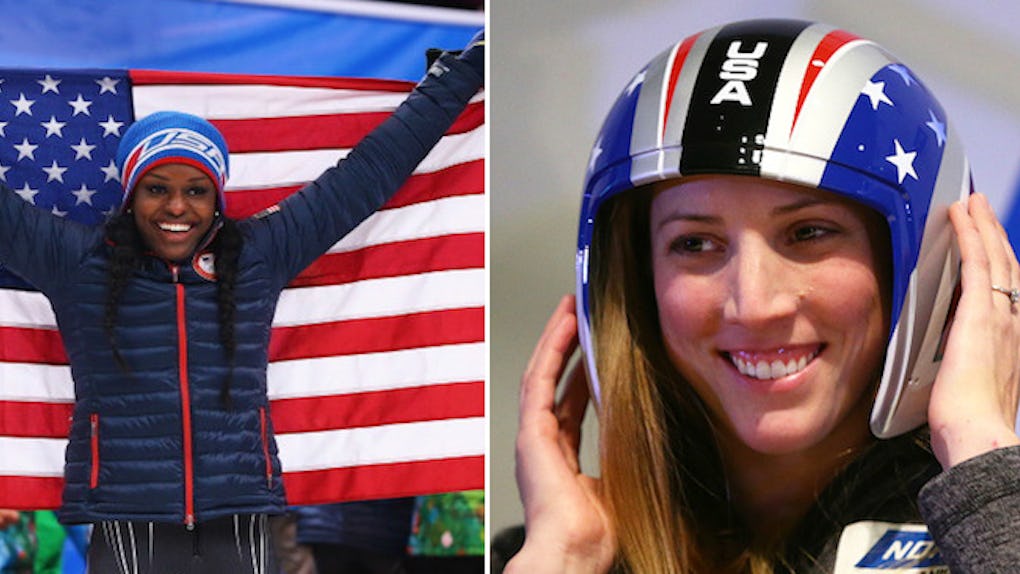 Getty Images/Al Bello/Maddie Meyer/Staff
What Olympic Athletes Eat For Breakfast To Earn That Winning Title Might Surprise You
The 2018 Winter Olympics kick off on Friday, Feb, 9 in South Korea, and there's no doubt these athletes are training their you-know-whats off to make sure they've got their routines down to a science. Optimal performance is a result of practice and a healthy body, which means these competitors need to catch a lot of Zs, find their zen, nourish their bodies with all the good eats. To fuel properly for intense training schedules and the competitions ahead, what Olympic athletes eat for breakfast could make or break their entire outcome, so don't think for a second that the fact that these guys are doing loops in the air and speeding down snow-covered hills hinders their appetite in the morning. If anyone knows how to eat, it's an Olympian.
Personally, I cannot work out on a full stomach. If I'm lifting, I'll maybe eat a spoonful of peanut butter beforehand, but if I'm doing cardio, it's likely I'll hop on the treadmill fasted. Then again, I am in no way, shape, or form, an Olympic athlete, and my training is far more lax compared to what their bodies are put through on the daily. Given their schedule probably has them up and moving from sun-up to sun-down, making time for a well-balanced meal to get their day started is vital to their overall performance.
Sure, they could easily scramble up a few eggs, shake some protein powder into a gallon of water, and call it a day, but every meal an Olympic athlete consumes has to be strategic. They not only have to think about what types of foods will enhance their performance, but also about what their body needs to stay full and healthy throughout the competition. It's not about one workout; it's about a series of events that could lead them to a shiny gold medal and a championship title.
I won't be super dramatic and say their fate lies on their breakfast plate, but still, it's not that big of an exaggeration. Nutrition is key to optimal health and perseverance. Ergo, if they want to win, they need to eat right. Here are some of the go-to meals Olympic athletes eat for breakfast when training.
1. Erin Hamlin Is All About Her Eggs
Hamlin and I have something in common: We're both obsessed with eating eggs for breakfast. In a statement sent to Elite Daily, the luge bronze medalist admits she isn't stingy when it comes to cooking style. As long as eggs are on the plate, she's a happy camper.
Hamlin will literally take two eggs in any form, be it scrambled with veggies or hardboiled, but her personal favorite is over-medium on a piece of avocado toast with salsa for that extra kick. Yum.
2. Jamie Anderson Goes Green In The Morning
Personally, I don't feel satiated unless I have some sort of crunch in my meals, but some people prefer sipping to chewing, and according to a statement sent to Elite Daily, Anderson is one of these people.
It's no surprise this snowboarding gold medalist needs to pack a lot of protein in her meals to dominate the slopes all day, and to get the job done, she likes to down a green smoothie with protein powder first thing in the morning, paired with a steaming mug of herbal tea. Boards up, pinkies up.
3. Tucker West, Like The Rest Of Us, Is Obsessed With Bagels
Tucker West is all of us on a daily basis: struggling to eat healthy in a world full of bagels. Obviously, when in training, he does his best to stick to a balanced menu. His go-to breakfast consists of two eggs over-hard with a piece of toast and a side of fruit, according to a statement sent to Elite Daily.
When he's not due to compete, though, West is basically me on a Saturday morning: headed to the local deli. He loves a hearty bagel sandwich with all the fixings: bacon, egg, and cheese, but he tries his very best to refrain during the season (though, I totally don't see why he shouldn't treat himself once in a while).
4. Nathan Chen Enjoys A Combo of Healthy Treats
To the naked eye, figure skating is super graceful, gorgeous, and might come off as less challenging than other winter sports, but I dare you to try a triple axel jump with a clean landing and see how easy that is. Spoiler: It's not. I mean, I can barely let go of the wall when I slip on a pair of skates, so kudos to Chen for dominating the rink one season at a time.
To do so, he chooses to fuel up early on in the day with smoothies, egg wraps, and yogurt.
5. Jessie Diggins Runs On Oats And Caffeine
I can only imagine the strength and agility one would need to compete, let alone place, in cross-country skiing, but Diggins has narrowed down her go-to meal to keep her feeling satiated and able to thrive.
According to a statement sent to Elite Daily, this year she'll be leading the U.S. women's team on a stomach full of oatmeal topped with "mixed berries, Greek yogurt, honey with nuts and seeds," as well as a cup (or a few) of coffee. Clearly, I need to try this whole "coffee as a pre-workout" thing if it can earn me an Olympic medal.
6. Aja Evans Keeps Breakfast Simple And Nutritious
What I love about Evans' approach to breakfast is that, even though she sticks to a pretty basic menu, she has a few staples to fall back on, guaranteeing she'll never get bored eating the same thing over and over again.
In a statement sent to Elite Daily, Evans says she likes to alternate between a carb-load of oatmeal or toast, three eggs over-medium, or an omelette, bacon, and fruit. Now that's a menu I can get behind.
7. Ashley Wagner Likes To Balance Out Her Protein And Carbs
This three-time U.S. figure skating champion makes sure she eats healthy on a regular basis, and according to a statement sent to Elite Daily, she genuinely enjoys the nutritional aspect of her job — which I can only imagine makes staying on track that much easier, considering I can't even control myself around a sleeve of Oreos.
Wagner's goal is to balance protein and carbs throughout the day, with her first meal consisting of a delicious combination of a smoothie and two frozen waffles topped with peanut butter. A PB waffle sandwich and a smoothie? Now, doesn't that sounds tasty (and super filling)?
8. Adam Rippon Keeps It Classic With A Bowl Of Cereal
Some athletes go hard at breakfast time with a smorgasbord of nutrient-dense foods like egg white omelettes and green smoothies. Others are a little more chill because, hey, not everyone is a breakfast person, and that's fine. As long as they stick to some sort of meal before they train, they should be good to go.
2018 will be Rippon's comeback year after recovering from a nasty ankle injury that kept him on the sidelines for most of the 2016 to 2017 figure skating season. But rather than loading up on protein-heavy meals to start his morning off strong, Rippon relies on the good stuff to conquer his training sessions — aka a bowl of Honey Nut Cheerios.
9. Ashley Caldwell Is A Creature Of Habit When It Comes To Breakfast
If I were doing triple flips and fancy tucks at 65 feet in the air, I'd probably opt to compete fasted, otherwise you'd definitely get a nice shot of my digested toast-and-tofu scramble tumbling through the sky, too. In an interview with Elite Daily, though, Caldwell says she's figured out what to eat for breakfast that's both nutritious and easy on her stomach.
Caldwell says she "pretty much eats the same thing every day," topping a piece of toast with two eggs, spinach, and cheese. She also drinks a cup of coffee with a splash of chocolate Rockin' Protein to generate an energetic buzz that's satisfying and ensures she won't get into a habit of eating junk food as the day progresses.