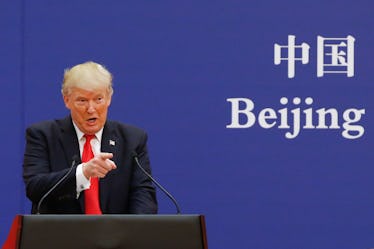 Despite Campaign Messages, Trump's Actually Been Pretty Friendly With China
Pool/Getty Images News/Getty Images
During his 12-day trip around Asia, President Donald Trump's relationship with China has been one of the more closely watched subjects. The reason why is no secret, either. During his presidential campaign, Trump routinely hammered the Asian power, accusing the nation of "ripping off" the United States.
Since entering the White House, however, Trump has talked about the Chinese with an increasingly friendly tone. That tone was well on display on Thursday, when the president complimented China for something he had passionately criticized the country for in the past: its economic practices.
"Both the United States and China will have a more prosperous future if we can achieve a level economic playing field. Right now, unfortunately, it is a very one-sided and unfair one. But — but I don't blame China," Trump said, to the applause of his Chinese hosts. "After all, who can blame a country for being able to take advantage of another country for the benefit of its citizens? I give China great credit."
Trump's comments stand in stark contrast to what had become his signature, fiery rhetoric towards China. On numerous occasions during his presidential campaign, he labelled the country an "enemy."
"Because it's an economic enemy, because they have taken advantage of us like nobody in history," Trump told Good Morning America in November 2015. "They have; it's the greatest theft in the history of the world what they've done to the United States. They've taken our jobs."
In a book he published in 2015, Crippled America, Trump also wrote,
There are people who wish I wouldn't refer to China as our enemy. But that's exactly what they are. They have destroyed entire industries by utilizing low-wage workers, cost us tens of thousands of jobs, spied on our businesses, stolen our technology, and have manipulated and devalued their currency, which makes importing our goods more expensive — and sometimes, impossible.
During one campaign stop in July 2015, Trump even said the U.S. shouldn't hold diplomatic dinners with China:
I beat the people from China. I win against China. You can win against China if you're smart. But our people don't have a clue. We give state dinners to the heads of China. I said why are you doing state dinners for them? They're ripping us left and right. Just take them to McDonald's and go back to the negotiating table.
This past April, however, after entering the White House, President Trump held a diplomatic dinner with leaders from China at his Florida resort, Mar-a-Lago. The dinner came as Chinese President Xi Jinping visited the resort for a weekend. After the visit, Trump referred to his relationship with President Xi as "outstanding."
During his trip to Asia this month, Trump has continued warming up to the Chinese president. Meanwhile, The New York Times reports that the president's friendliness towards China is part of a concerted effort to form a relationship with the country, particular as the U.S. searches for ways to convince China to help deter North Korea's efforts to develop nuclear weapons.
Part of that concerted effort, it seems, includes Trump congratulating President Xi for gaining more power in China, despite the fact that critics would argue that gain moves China father away from democracy. Trump said during his visit to Beijing,
I want to congratulate you on the recent and very successful 19th Party Congress. Perhaps now more than ever, we have an opportunity to strengthen the relationship between our two countries and improve the lives of our citizens, as long as we stand together — with others, if necessary — against those who threaten our civilization.
Whether or not President Trump's words of flattery helps the U.S.' international objectives remains to be seen.