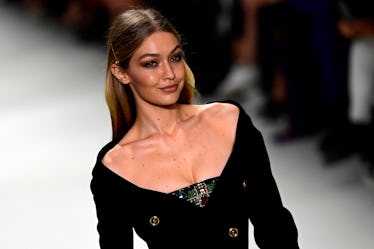 Selena Gomez And Gigi Hadid Are Rocking A New Eyeliner Trend & It's So Cool
MIGUEL MEDINA/AFP/Getty Images
Another day, another fashion trend we are dying to try. Cool girls Selena Gomez and Gigi Hadid are rocking a new makeup look called "thumbprint eyeliner" into our fall fashion. We seriously can't wait to give it a go just to be reminded that we aren't celebrities and can't actually pull off high fashion. So, what is thumbprint eyeliner? Not rubbing your thumb all over a liner pencil and smooshing it onto your face if that's what you think (tried it, not it), but close.
Rather than being fiercely sharp, this look is more sensually curved. While you get all of the drama of a cat-eye, the overall effect is somehow less high maintenance and more glamour at the same time. The defining characteristic of the thumbprint eye is the rounded, full body shape that the liner takes at the outer corner of your eye line. Extending ever so slightly past your natural lid, the line ends in a soft, imperfect curve that resembles a thumbprint. The best part? It's totally OK, and in fact encouraged, for the eyes to not be identical. Celebs like Gomez and Hadid have been spotted sporting the cool-girl trend, but they aren't alone. Lady Gaga, Bella Hadid, and many, many, many runway models have been spotted rocking the thumb... as I like to call it.
Here, get a good eyeful.
Cool enough for you?
The woman responsible for Gigi's insanely awesome look here is makeup artist Pat Montelongo. She told Women's Wear Daily that she used a combo of eyeliner mixed with shadow and gloss to give the look depth.
She said,
We didn't want a straight line, we wanted a little bit of that curve to it so it's not going out at an angle. It just goes softly hugging the eye and then just around the nice soft edge.
Hadid sported the trend at the Tom Ford fashion show.
Sister Bella stepped onto the runway for Jason Wu with a similar smudge, though the overall look is completely dynamic and unique on each girl. Bella's makeup artist Yadim told WWD,
On the way here in the car I got a text saying 'Let's add a graphic element to it,' so we ended up with a cool wing with an edge.
The best part about this look is it isn't just for high-fashion, but can be taken from day to night depending on what kind of eyeshadow or lip you pair it with.
For example, Selena Gomez popped up on makeup artist Hung Vanngo's Instagram rocking serious glitter-glitz lids with just a hint of thumbprint eyeliner smokey-ness. She was on her way to the Coach runway show in the back of his car looking both daytime fresh and runway chic.
Yes, Selena, yes! More of this eye twinkle/nail wiggle/duck face giggle, please! (Somehow, this 'gram makes me way nostalgic for my teen years spent rolling body glitter from Bath & Body Works all over my face.)
Ah, 'twas a simpler time.
Something also tells me this look will last through the winter too, thanks to its low-maintenance application and versatility. You can rock it pumpkin picking in flannel by using a smudge-y matte charcoal, or take it to holiday parties and New Year's Eve by adding a blast of metallic and gloss. It can even look a little "morning after" sexy if that's your style.
The one thing to remember is imperfect makes this look perfect, and to not take yourself (or your eyeliner) so seriously.
Check out the entire Gen Why series and other videos on Facebook and the Bustle app across Apple TV, Roku, and Amazon Fire TV.