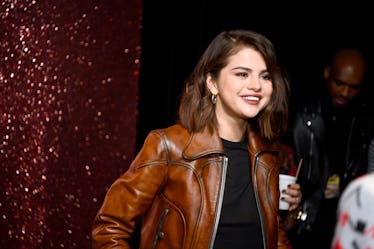 Selena Gomez's Fans Found A Tiny Clue That May Mean She's Dropping New Music Soon
Dave Kotinsky/Getty Images Entertainment/Getty Images
Is Selena Gomez dropping new music soon? Some super sleuths found a tiny clue that may point to a new Gomez song coming out as soon as next week. What is "This Is Real" and why are fans so excited?
Gomez fans had spotted mention of a new song collaboration with DJ Jax Jones called "This Is Real" earlier this year, but details were foggy. Let's just say details are still a bit limited, but this newest clue reveals something big is on the horizon.
So, let's take a look at this new hint and see if we can piece it together. Jones is rumored to release the collab with Gomez on Oct. 16. How do we know? Twitter user @GomezSource shared a screenshot of Jones liking an Instagram comment that asked: "The song you have with @selenagomez called 'This Is Real' being released 16 October 2017?"
Fans are now debating whether this clue is for real or not, with some pointing to the snippet that Jones shared ages ago on Snapchat. Behold, the inquiry and subsequent "like." Does this mean "This Is Real" is really coming out soon?
Here's that tease from oh-so-long ago:
Back in January, Jones was asked whether or not it was Gomez's voice in the "This Is Real" clip and he told Capital FM: "It is Selena Gomez. It's a great record. One day I hope to release it."
At the time, fans noted: "she sounds AMAZING!!!!" and "OMGGGG I NEED TO KNOW WHEN ITS COMING!"
Lyrics included: "This is real, and you've been right here all along." Not a lot to go on, but enough for fans to want the song to come out immediately. Turns out, they had a longer wait ahead of them than they could imagine and some people got downright rude with Jones.
Given that the clip was teased in January, Jones got a fair amount of hate from fans eager to hear Gomez's new song, as he told the Daily Star: "Someone tweeted me the other day saying: 'I woke up really angry today that Jax Jones still hasn't released his collab with Selena Gomez, he is the scum of the earth.' It is so vicious."
The fact that Jones released a collaboration with Demi Lovato, "Instruction," ahead of the Gomez track had many upset, as he noted:
I think the Demi collab has riled them up a lot more. The running theme is that the Demi fans claim Selena can't sing and the Selena fans say Demi is a flop and they are so horrible to each other, and to me!
He also mentioned there was no shortage of possible big name collabs in the works, explaining, "Yesterday Zayn was asking me for some music and then Louis [Tomlinson] has been talking as well. For me it would just come down to whatever the best song is. If they are both banging I reckon I can convince them both to work with me."
How long will we have to wait for those collabs though?
On a recent Instagram post where Jones promoted his upcoming tour, fans were all over him for more details about the rumored Gomez song, with comments like: "'This Is Real' with Selena will be released in October?," "RELEASE THE SONG WITH SELENA PLEEEASE," "THIS IS REAL WITH SELENA PLEASE," "Your song with Selena will come on the 16th of October? Please say it's true," and "I hope we get the song with selena soon!!"
Fans are beyond ready for it, to say the least, so here's hoping that Oct. 16 drop date is legit.
Check out the entire Gen Why series and other videos on Facebook and the Bustle app across Apple TV, Roku, and Amazon FireTV.