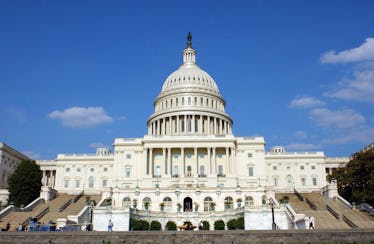 This Bill Could Block Trump's "Zero Tolerance" Policy, So There's Still Hope
Stefan Zaklin/Getty Images News/Getty Images
In light of President Donald Trump's enforcement of his new "zero tolerance policy" along the country's southern border, members in Congress have written up a bill that will attempt to counteract the devastating separation between parents and children that this bill has caused for migrant families. So what is the Keep Families Together Act, and can it help protect migrant families from getting torn apart?
According to Vox, there's currently only one bill in the U.S. Senate that would stop migrant families from getting separated under Trump's new policy. Sen. Dianne Feinstein, a Democrat from California, introduced the bill on June 8 in an effort to keep the Department of Homeland Security (DHS) from forcibly taking children away from their parents at the border. Feinstein issued a statement on June 8 announcing the Keep Families Together Act and denouncing the Trump administration's policies. She said,
Congress has a moral obligation to take a stand and say that families should not be forcibly separated. Many of these families are fleeing terrible violence, traveling thousands of miles on foot for the chance to file an asylum claim and save their lives. To traumatize them further is unconscionable, and I hope that our Republican colleagues will work with us to put an end to this immoral policy.
If passed, the Keep Families Together Act would prevent families from being separated, with the exception of very specific cases where there's reason to believe that the child in question is being abused by their parents or is being trafficked. The bill also puts in place measures to ensure that a child is actually in danger before separating them from a guardian — per Vox, a state court would have to terminate an undocumented person's parental rights or an official from an child welfare agency would have to declare separation was in a child's best interests.
As of June 19, this bill has the support of every Democrat in the Senate, but no Republicans. The final Senate Democrat to put his stamp of approval on the bill was West Virginia Sen. Joe Manchin, who signed off on it on June 18, according to Vox. Although the senator does support stronger border security, Manchin said in a statement after he announced his support of the bill that "No law requires pulling children from the arms of their parents."
In early April, Attorney General Jeff Sessions announced the Trump administration's "zero tolerance policy," under which all undocumented adults coming into the United States would be prosecuted — meaning that they would be separated from any children they were traveling with, as children cannot go through the criminal courts. In the six weeks since the policy was enacted, some 2,000 migrant children have been separated from their parents or guardians, according to numbers from DHS.
But despite party politics, this isn't the only legislation in the works. Texas Sen. Ted Cruz announced on June 18 that he would be announcing his own legislation that would prevent families from being separated. According to The Texas Tribune, Cruz's Protect Kids and Parents Act would require the government to keep families together, so long as the parents are "absent aggravated criminal conduct or threat of harm to the children." Cruz said that he would announce the bill sometime this week, and stated that his act will "mitigate the problem of family separation while improving the immigration court process for unaccompanied children and families apprehended at the border," per the Tribune.
For the children that have already been taken away from their families, I'm afraid that the damage has already been done — but that doesn't mean that it's time to give up. If you want to speak in favor of legislation to keep families together, Elite Daily's put together a handy guide to calling your representatives and senators in Congress on this issue. Remember, your voice (and your vote) always counts.