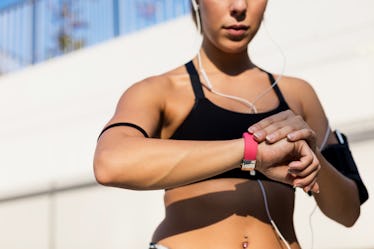 This Major Fitbit Update Will Make Your Workouts So Much More Fun
Working out is, well, hard. On any given day, it can be a mental exercise just to get out of the house, let alone pull off a stellar sweat session — especially when the past three months have been one long, never-ending mess of abysmal weather conditions. Working out is tough on the best of days, but the new Fitbit Versa is here to make your workouts way more fun.
Of course, the best part about working out usually has something to do with that massive rush of endorphins you get after pushing your body to go the extra mile (literally and figuratively). But let's be real: It's nice to just enjoy yourself along the way. The new Fitbit Versa is all about improving the overall experience of fitness as a lifestyle, which is why the brand partnered with Pandora, so you can listen to music without having to bring your phone along for the ride. Look, as someone who has personally damaged somewhere between three and seven iPhones by keeping them in sweaty sports bras during my runs, I am all for this new upgrade in the Fitbit family.
According to the official press release, the Fitbit Versa is "the lightest metal smartwatch in the U.S. market [that] offers a comfortable design and a new dashboard that simplifies how you access your health and fitness data."
The Fitbit Versa is all about improving your workout experience from beginning to end.
One of the biggest features of this new device is, of course, the Pandora integration, which will allow those with a Pandora Plus or Premium membership to sync their favorite stations directly to their watches, so they can listen to them on-the-go and, as a result, leave their phones behind when heading into a workout.
The ability to more efficiently stream music during a workout is a huge win for anyone and everyone. According to the National Center for Health Research, listening to music doesn't just help you feel less bored and generally blah during your workout; it also actively improves the overall quality of your workout from start to finish.
"The perfect workout soundtrack has the transformative ability to both center and energize us," a Pandora spokesperson tells Elite Daily over email. With this new music-streaming feature, the spokesperson adds, "you can sync your top stations or workout stations, like the Fitbit Motivation Mixtape, directly to the watch — so you can take your tunes, and forget your phone."
But the Pandora integration isn't the only reason to get excited about the new Fitbit Versa.
The latest Fitbit rollout includes a whole other host of upgrades, including a new health tracking system that will allow you to track your menstrual cycles, as well as "view [your] holistic health data in one place, and better understand connections to their overall health," according to the product's press release.
This new period-tracking feature in the Fitbit Versa came about as the result of a Fitbit survey detailed in the product's press release, which revealed that 80 percent of women didn't know how many phases are in a menstrual cycle, and that more than 70 percent weren't able to identify the average duration of a menstrual cycle.
In addition to helping you track your menstrual cycle, the Fitbit Versa will also allow you to monitor your PMS symptoms, access educational content regarding fertility, and connect with others in a "Community" tab for support on topics like fertility, pregnancy, menopause, and more. Pretty awesome, right?
The Fitbit Versa will basically be your new best friend: It'll motivate you to work out on even your laziest of days, and it'll simultaneously warn you that your period is coming tomorrow.
Fitbit Versa Watch, $199.95, Fitbit
The Fitbit Versa is available for pre-sale now. The cost of 24/7 access to that Chingy Pandora station, though, is practically priceless.