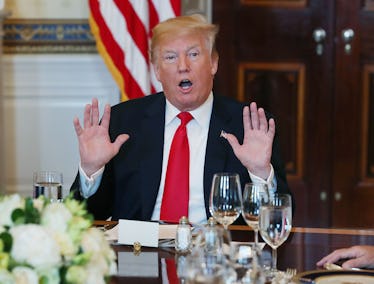 A "Domestic Gag Rule" Would Harm Women Who Need Health Care Access Most, A Doctor Explains
Mark Wilson/Getty Images News/Getty Images
On Friday, May 18, the White House announced support for a proposed rule to change Title X funding, the only federal program that gives money to reproductive health services, like Planned Parenthood, which would be done through the Department of Health and Human Services (HHS). Under the expected new guidance, which is being referred to by abortion rights advocates as a "domestic gag rule," clinics that provide abortions or referrals for abortions would lose Title X funding, according to The New York Times. This would impact not just the clinics, but the women and men served by them, and many doctors are already protesting the possible announcement.
UPDATE: Early Tuesday evening, the HHS released a statement about the proposed update to Title X. A statement obtained by Elite Daily notes that one of the "key elements" is to require "clear financial and physical separation between Title X funded projects and programs or facilities where abortion is a method of family planning." Another element is that "the proposal would not bar non-directive counseling on abortion, but would prohibit referral for abortion as a method of family planning."
EARLIER: "I think that, ultimately, this is an attempt to take away women's basic rights," Dr. Sarah Horvath, an OB/GYN and a fellow with Physicians for a Reproductive Health, tells me in an interview with Elite Daily. "It's unfortunate that that's the direction that we're going, but I do think that this is just a blatant attempt to control women."
Poor women, rural women, women of color, women who are otherwise uninsured are all going to be impacted disproportionately.
Elite Daily reached out to the HHS for comment on the rule and clarification on whether or not the administration would institute other policies to provide for access to care that would be lost under it, but did not hear back at time of publication. President Donald Trump is speaking at a Susan B Anthony List (an anti-abortion organization) gala on Tuesday, May 22, evening, and many speculate he will discuss or announce the rule change there.
The White House, for its part, maintained in a statement that it would not cut Title X funding, but would rather "ensure that taxpayers do not indirectly fund abortions." The statement also rejected reports that the proposal includes "the so-called 'gag rule' on counseling about abortion that was part of the Reagan Administration's Title X rule." (The Reagan rule barred clinics from counseling on abortion, and outlets like The Washington Post reported that Trump's rule would not include that further step, which would make it an easier target for a legal challenge.)
Under the "domestic gag rule," clinics that receive Title X funding, which includes Planned Parenthood and other clinics in underserved areas, would lose funding if they provide abortions at the clinic or if they refer patients to clinics that do provide abortions, according to reports.
"It means that a lot of the safety net clinics that currently provide birth control, cancer screenings, STD screenings and treatment, even some general women's health care, are going to be unable to provide that care," Horvath says.
The "domestic gag rule" is so-called because it aligns with the "global gag rule," which is the same rule, but for nongovernmental organizations (NGOs) that work in countries outside of the U.S. and get foreign aid funding from the U.S. government. Under that rule, which Trump enacted last year, organizations that provide vital care to women in impoverished areas have had to severely cut back on their services, leaving women in many places without safe health care.
"The women who are already on the margins are the ones who are going to be most impacted by [the domestic gag rule]," Horvath says. "Poor women, rural women, women of color, women who are otherwise uninsured are all going to be impacted disproportionately."
While the Trump administration is spinning this as a way to keep governmental money from paying for abortions, the truth is that federal money has not paid for abortions for over 40 years. This is thanks to the Hyde Amendment, which Congress votes on through the budget every year. Under this amendment, federal funds — such as those given to Medicaid, which serves low-income people — cannot be used for abortions except in cases of rape, incest, and medical threats to the woman's life. Ultimately, this restricts women's access to abortion, especially for poor women, and by cutting Title X funding, the "domestic gag rule" would additionally cut off access to general sexual and reproductive health care.
"When you take away access to safe, legal abortion, you don't end the abortion part, you end the safe and the legal part. What ends up happening is that abortions continue to occur, but they happen unsafely," Horvath says.
Horvath warns that while the rule is "sort of a blatant attempt to defund Planned Parenthood," it would have a deeper impact than just damaging the organization that serves 2.4 million patients nationwide. The rule would potentially force many clinics across the country to close, limit services, or charge women more for care without government support. "Basic preventive care is going to go away, and not just for Title X women. It's going to go away for a lot of people," Horvath says.
"I think that for the four million women who get their care through Title X, they should be very worried," she says. "I think that other women should be worried that there is more coming down the pipe."