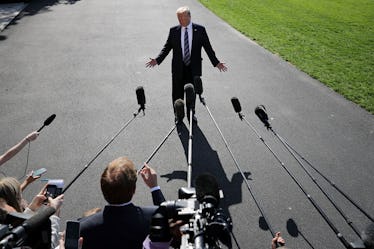 Trump's Newest Conspiracy Theory Claims The "Deep State" Surveilled His Campaign
Chip Somodevilla/Getty Images News/Getty Images
President Donald Trump continued to sow doubt in his own governmental institutions this week by claiming that federal law enforcement agencies spied on him. This time, even Republicans have had a hard time defending the president's apparently baseless claims. What is "spygate"? Trump's newest conspiracy theory claims the "deep state" surveilled his campaign, and he has continued to peddle the falsehood even after it was debunked.
At the root of "spygate," there is a real thing that happened. The FBI reportedly used an informant after it received evidence that two campaign advisers suspiciously had contacts linked to Russia, per The New York Times. Citing unnamed sources familiar with the matter, Times reported that the informant was used by the FBI to find out what the advisers (George Papadopoulos and Carter Page) knew about Russian efforts to hack into Democratic email servers. So there was reportedly an FBI informant — not a spy — who was not interested in Donald Trump and reportedly did not act improperly, contrary to what Trump's tweeting.
Trump and his allies in Congress have taken that story and seemingly run with it to attack the legitimacy of the ongoing Russia investigation by Special Counsel Robert Mueller that has plagued the Trump administration since day one. Republican lawmakers in Congress have been feuding with the Justice Department over the last few weeks, expressing concern that federal investigators are abusing their authority as it relates to the allegations of "spygate," per the Times. So "spygate" is essentially a part of a broader feud between Trump and Republicans in Congress vs. the Justice Department and the special counsel.
"Reports are there was indeed at least one FBI representative implanted, for political purposes, into my campaign for president," Trump tweeted on May 18. "It took place very early on, and long before the phony Russia Hoax became a 'hot' Fake News story. If true — all time biggest political scandal!"
Before long, Trump coined the ordeal "spygate" on Twitter, and it stuck.
The Justice Department has kept a tight lid on the details about the informant thus far, in an effort to protect his or her safety — which has fueled the tension with Trump and his Republican allies in Congress. However, FBI officials met with top lawmakers from both parties on May 25 and effectively debunked the claim that federal law enforcement agents did anything improper, according to CBS.
House Oversight Committee Chairman Rep. Trey Gowdy, a Republican from South Carolina, came out of the meeting feeling convinced that the FBI did not abuse their power.
"I am even more convinced that the FBI did exactly what my fellow citizens would want them to do when they got the information they got, and that it has nothing to do with Donald Trump," Gowdy said in an interview on Fox News Tuesday, May 29.
Fox News legal analyst Judge Andrew Napolitano echoed Gowdy in a subsequent interview on the network. He called Trump's repeated claims "baseless," saying that "there is no evidence for that whatsoever."
Still, Trump has tweeted as recently as Thursday, May 31, that "spygate" is real, without evidence and with no root in facts. And so it shouldn't come as a shock that White House Press Secretary Sarah Huckabee Sanders did the same thing on Wednesday, May 30, refusing to address the apparent contradictions with Trump and the observations of Gowdy — a Republican who has actually been briefed on the matter.
"Is the president prepared to retract his allegation that the FBI was spying on his campaign?" ABC's Jon Karl asked Sanders at Wednesday's briefing. Sanders responded,
No, clearly there's still cause for concern that needs to be looked at. Let's not forget that the deputy director of the FBI was actually fired for misconduct. The president is concerned about the matter, and we're going to continue to follow the issue ... There were a number of things that have been reported on that show I think not just for the president, but a number of Americans, a large cause for concern.
It raises some really huge ethical questions at the point, not just for journalists but for consumers of news — as Michelle Wolf expertly pointed out in her White House Correspondents' Dinner speech — that the White House isn't going to calm down its deluge of misinformation, as some suggested early on. It's been nearly 18 months into the Trump presidency, and still reporters are struggling to satisfyingly counter falsehoods from the White House. Journalists continue to keep reporting what they know to be true, and Trump continues to parrot his own mythology. So, what happens next? Well, Jon Meacham, a presidential historian and biographer, told The New York Times that this deliberate gaslighting can have a major effect on society in years to come.
"The effect on the life of the nation of a president inventing conspiracy theories in order to distract attention from legitimate investigations or other things he dislikes is corrosive," Meacham said. "The diabolical brilliance of the Trump strategy of disinformation is that many people are simply going to hear the charges and countercharges, and decide that there must be something to them because the president of the United States is saying them."
Woof. I need to lie down. (Pun not intended.)