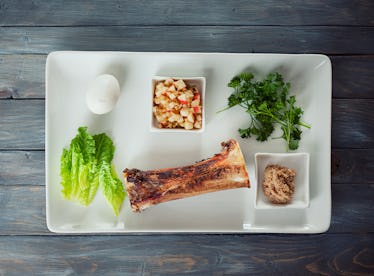 If You're Celebrating Passover With Your Jewish Partner, Here's What To Expect
Like any religion, Judaism is complicated. There are so many ins and outs, and they can vary depending on how religious you are or even what part of the world you have origins in. If you're dating someone Jewish, it can be challenging to keep up. You can ask your partner questions, of course, and they'll be happy to answer. But before you ask, "what is Passover?" why not read up on the holiday and then ask a more pinpointed question? Trust me, your significant other will be impressed, and super flattered that you want to learn about their culture.
As one of the more involved Jewish holidays, Passover has tons of history behind it. This also means that there are a number of important traditions (read: rules) to observe during the holiday. Before you freak out, know that you don't need to understand every aspect of this intricate holiday to celebrate with your partner. As long as you are respectful and open to new experiences, you'll be fine.
That being said, it can't hurt to brush up on the basics before you attend a Seder (pronounced "SAY-der" — it's the traditional dinner held on Passover) with your significant other and their entire family.