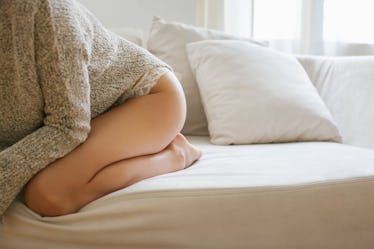 "Päntsdrunk" Is The Scandinavian Self-Care Trend That's All About Chillin' In Your Underwear
It's officially June, and by this point in the year, pretty much everyone has heard about the Danish trend "hygge," which essentially dominated all of our social feeds throughout the winter months with unique, cozy ways to relax in your everyday routine. But what is "Päntsdrunk"? This new Scandinavian wellness trend actually might be even easier to understand than hygge, since the name says it all: Päntsdrunk is, for lack of a better way to put it, all about chilling in your underwear, typically with your cocktail of choice in-hand.
According to Business Insider, you can thank Finnish journalist Miska Rantanen, and his new book, called Päntsdrunk: Kalsarikänni: The Finnish Path to Relaxation, for bringing the term "Päntsdrunk" into mainstream American culture. Subtitled on the cover of the book, which officially comes out June 5, Rantanen cuts to the chase about what this whole trend is really about: "drinking at home, alone, in your underwear." Aaaand I'm sold. There's no question that this seems like the most relatable, and perhaps most easily-accomplished lifestyle trend in human history — but is it actually good for you?
According to excerpts from the book that can be found on the Penguin Books website, Päntsdrunk is a "path to recovery and self-empowerment," defined by utter relaxation and temporary escapes from real-world stressors, such as work emails or annoying small talk. Rantanen argues that it's no coincidence Finland is constantly ranked in the top five for the happiest countries on Earth, citing the Päntsdrunk way of life as one of the contributing factors to this nationwide happiness.
Päntsdrunk is basically what happens when you refuse to let FOMO get the best of you.
After all, going out to drink with friends might be fun, but it's also expensive, exhausting, and oftentimes, you end up doing and drinking more than you originally bargained for. To be clear, at no point does Rantanen suggest that Päntsdrunk should be equated with binge drinking. Rather, it's all about allowing yourself to relax while being totally sequestered from the "real world." An ideal Päntsdrunk night for me would assuredly be homemade cucumber jalapeño margaritas, along with a few seasons of Girls, a face mask or two, followed by a bedtime of 9 p.m. sharp.
Perhaps the best part about the Päntsdrunk trend is that it will cost you close to nothing to carry out. All you have to do is grab a bottle of wine (or another cocktail of choice) and find your way to a Netflix subscription. You don't even need pants, people.
This is a welcome change from the hygge trend, which, while admittedly an extremely enjoyable trend from an aesthetic point of view, basically makes you want to own three times as many pillows as you currently have, and tricks you into thinking that splurging on a pair of cashmere slippers that are worth more than your rent is a legitimately good idea.
Päntsdrunk, on the other hand, seems to be a lifestyle trend that's for the people, by the people.
It allows everyone to do exactly what they've always wanted to do (and have probably already been doing in secret), without feeling bad for it on a Friday or Saturday night.
If you're feeling doubtful about how lazing around in your underwear with a drink in your hand can possibly be considered a wellness trend, then consider this: Research shows that drinking alcohol in moderation can help reduce stress, and that humans (and even animals) can often crave alcohol when they're feeling stressed. This is totally normal, so really, you don't have to feel guilty about ordering a class of cabernet after an especially chaotic day. Like most things in life, it really is all about moderation and setting healthy limits.
Another amazing part about the Päntsdrunk trend is that it encourages solitude. In a universe where people are constantly in touch with one another, it's good to have a reminder every once in a while that there's nothing wrong with spending a night alone focusing on what you want instead of anyone else's needs.
So go ahead and have a Päntsdrunk night — or even better, a Päntsdrunk weekend. You deserve it.