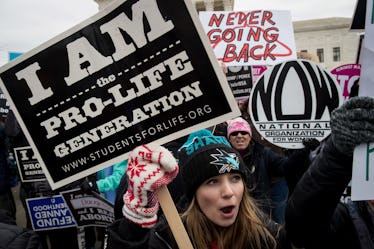 This Anti-Abortion Group Is Behind The Newest Big Supreme Court Case On Women's Health
Drew Angerer/Getty Images News/Getty Images
On Tuesday, March 20, the United States's highest court will begin hearing arguments on NIFLA v. Becerra, a Supreme Court case that could have major impact on the fate of abortion access in the country. In NIFLA v. Becerra, the anti-abortion group is taking on Xavier Becerra, California's attorney general. The question facing the Supreme Court is whether a California law requiring centers to disclose certain information to patients violates the First Amendment right to free speech.
The pro-life National Institute of Family and Life Advocates (NIFLA) works to defend pregnancy centers that seek to "empower abortion-vulnerable women and families to choose life," per its website. The nonprofit provides "legal counsel, education, and training" to crisis pregnancy centers.
At issue is California's Reproductive Freedom, Accountability, Comprehensive Care, and Transparency Act (FACT Act), which was passed in 2015. This law requires any licensed covered facilities to disclose information to patients about their full range of options regarding family planning, including state-sponsored free and low-cost options. It also requires unlicensed facilities to disclose to patients that it is not in fact a medical facility licensed by the state. Per Mother Jones, NIFLA is representing 110 crisis pregnancy clinics in the state. A win for NIFLA and anti-abortion advocates, per The Cut, could have bearing on a number of other states that have or are looking to pass similar laws requiring disclosures regarding reproductive health care and counseling.
Some centers — largely those known as crisis pregnancy centers (CPCs), pregnancy resource centers, or fake women's health centers — primarily provide counseling and are not licensed to provide patient care, but this can be misleading for some seeking medical care. For instance, the National Women's Law Center, in an amicus brief filed for the case, writes of a patient's experience: "Sarah was deceived into going to one of these [anti-abortion counseling] centers ... she had an ectopic pregnancy that they missed ... because it was not caught and treated, it ruptured, putting her life and health at risk."
The law was passed to prevent women from being misled by unlicensed centers in receiving medical advice or care about their reproductive health.
"Unlicensed facilities that advertise and provide pregnancy testing and care must advise clients, at the time they are seeking or obtaining care, that these facilities are not licensed to provide medical care," reads the bill's text.
Fake women's health centers are usually backed by anti-abortion groups, and while NIFLA points out that centers like these often receive private funding, they do get government funding. Rewire reports that anti-abortion clinics in just 14 states received over $40 million in taxpayer dollars.
NIFLA is framing the FACT Act as an infringement on free speech, arguing that its mandatory disclosures violate the First Amendment by forcing "pro-life pregnancy resource centers ... to become abortion referral agencies," per NIFLA president Thomas Glessner. The case has become a focal point in the ongoing battle between anti-abortion and pro-choice advocates.
"Should the government be able to force you to advocate for things you believe are harmful?" Students for Life of America President Kristan Hawkins wrote in a Fox News op-ed, per the group's statement. "Consider the outrage ... if breast-feeding advocates in the La Leche League had to recommend baby formula or if anti-war protestors had to mention Army recruitment. That kind of government interference in free speech would be seen as ridiculous if applied to such passions."
But Planned Parenthood Affiliates of California Chief Legal Counsel Maggy Krell suggests the act is more about avoiding deception and providing patients with complete information — especially those that are more vulnerable.
"The Reproductive FACT Act ensures that women have access to accurate information when they're faced with critical health care decisions," Krell says in a statement obtained by Elite Daily. "Fake women's health centers are particularly harmful for communities that already face systemic barriers to health care, including people of color, people with low incomes, and young people."
A tweet by Mother Jones reporter Hannah Levintova at the Supreme Court Tuesday shows crowds gathered for rallies on both sides of the issue. The anti-abortion group Students For Life of America (SFLA) said in a statement to Elite Daily that they would rally outside the courthouse after holding a prayer vigil all night.
The outlook on the case is tough to gauge, but a tweet by Economist reporter Steven Mazie suggests it's an uphill battle for the pro-choice crowd. The current SCOTUS leans conservative, thanks to the addition of Justice Neil Gorsuch, who was nominated to the seat in 2017 by President Donald Trump, though his views on abortion aren't clear. Whether the Supreme Court will side with anti-abortion or pro-choice advocates on the issue of the First Amendment remains to be seen. Per Rewire, SCOTUS is expected to deliver its decision this summer.