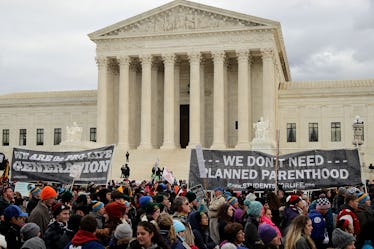 The Supreme Court Is Debating The Rights Of These Deceptive Women's Health Centers
Chip Somodevilla/Getty Images News/Getty Images
Caitlin H. just wanted to get an STD test while she was home for winter break from grad school in Texas. She googled "free STD tests near me" and found what was listed as a "woman's health clinic" near her old high school and a hospital. She tells me in an interview with Elite Daily that she made an appointment, gave them blood and urine samples, and went back for what should have been a routine assessment. Instead, Caitlin left the center in tears, feeling shamed and violated from a series of intrusive questions. Shaken, she called her mom from the parking lot, and her mother was able to tell her that she hadn't been to a regular women's health clinic — she was at a so-called fake women's health center (FWHC), which are also known as crisis pregnancy centers (CPC).
These centers are designed to shame and stigmatize women, often with the purpose of convincing them to not have an abortion. They make themselves look like a regular women's health clinic — or an abortion clinic — but in reality, are not licensed medical facilities and do not have licensed medical professionals on their premises. FWHCs are usually backed by Christian faith organizations and, in some states, get funding from the government. Elite Daily reached out to NIFLA about the criticism of CPCs, but did not hear back at time of publication.
The rights of fake women's health centers are being debated by the Supreme Court in the case National Institute of Family and Life Advocates (NIFLA) vs. Becerra. Legally, this is a case about free speech, but realistically, it's about how much these centers can get away with in their attempts to deceive women. NIFLA is an anti-abortion nonprofit that supports "life-affirming pregnancy centers that empower abortion-vulnerable women and families to choose life for their unborn children," per their website. "Becerra" refers to Xavier Becerra, the Democratic attorney general of California. The case is being heard in the Supreme Court on Tuesday, March 20.
NIFLA is fighting (and Becerra is defending) the Reproductive FACT Act, which was signed into California law in 2015. That act requires that FWHCs and CPCs post a notice to patients reading,
California has public programs that provide immediate free or low-cost access to comprehensive family planning services (including all FDA-approved methods of contraception), prenatal care, and abortion for eligible women. To determine whether you qualify, contact the county social services office at [insert the telephone number].
Centers that are not medically licensed must also provide a notice to patients reading,
This facility is not licensed as a medical facility by the State of California and has no licensed medical provider who provides or directly supervises the provision of services.
NIFLA has taken issue with these requirements, claiming that it violates First Amendment rights by forcing the centers to mention that abortion exists as a feasible option. Now, their case has made it up to the Supreme Court. This is the first time the United States will get to see how Neil Gorsuch, who was nominated to the Supreme Court by Donald Trump, will judge in an abortion case (he has previously ruled along conservative lines in birth control cases).
Had that signage existed in Texas, it's probable that Caitlin would've realized she wasn't in a licensed medical center and left before facing their rigid treatment. When she got there, a woman at the front desk of the center had scrubs on, and she was in what looked like a regular exam room when she went to be told the results of her tests. She didn't have reason to question the medical nature of the facility until a woman interrogated her about her sex life, she says, asking about the name of her partner and if he lived in town, as well as when she lost her virginity, how many sexual partners she'd had, and if she had been molested as a child. After declining to answer the questions, the woman told her she tested positive for chlamydia, but didn't provide information about treatment. That's when Caitlin got up and left in tears. Elite Daily asked NIFLA about CPCs' provisions of STD tests but did not hear back at time of publication.
"I sat in the car and I cried for 10 minutes, not necessarily because I was that upset about the test results, but it was the way that everything happened," Caitlin says. "It was this process of just making me feel disgusting and so gross about being there for testing and having had sex."
After Caitlin's mom told her what the center was, she went to her regular urgent care doctor, got re-tested, and was prescribed the antibiotics that cleared up the chlamydia with no long-lasting repercussions. It wasn't the diagnosis that hurt Caitlin, but, rather, that she was tricked and made to feel ashamed.
"How did I not know, right?" she says. "I was in graduate school, and I think I'm a good, well-read feminist, and still, I had no idea that this was a thing that I was supposed to be watching out and on guard for, that any minute, someone's going to pretend that they're a medical provider and trick me."
Despite the shock over being tricked, Caitlin was able to get the treatment she needed. But when it comes to women with unplanned pregnancies, FWHCs' deceptive practices, according to NARAL Pro-Choice America, have been known to include pretending to offer resources they don't have, providing medically inaccurate information, and delaying abortion care, which can make the procedure riskier, costlier, and — in some states — illegal. These manipulative practices unalterably change women's lives.