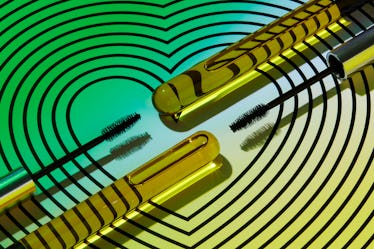 Milk Makeup Is Releasing Another CBD-Infused Product & You Can Say "High" To It Soon
Courtesy of Milk Makeup
Another day, another cult beauty fave teasing some brand new products. The next brand with a ~mystery launch~ on the docket? Milk Makeup. The only issue here is that we have absolutely no clue what they are. All we know right now is that it will, in fact, have cannabidiol (CBD oil) on the ingredients list. While Milk Makeup's new CBD-infused launch definitely has lots of people confused, if it's anything like the brand's Kush Mascara, it's bound to be an epic reveal.
On Monday, June 18, Milk shared a cryptic video collage on their Instagram page. Captioned, "Puff puff baby, the next kush is coming — and it's gonna blow you away," viewers see a bunch of beautifully manicured hands opening up various boxes. What's inside the boxes is still unknown, though, since all you can see is smoke pouring out of the opening. Still, followers used the comments to start guessing what's in store. Some think a CBD-infused foundation might be on the way, while others offered up highlighters or a setting spray.
Though the company hasn't mentioned a release date just yet, the good news is that whenever the big secret is revealed, Milk has a fun initiative planned with the launch. The brand will be giving away 25 products to Instagram fans who follow @milkmakeup, make a story post guessing what the next kush add-on may be, and then tag the brand, along with some friends. If you're into it, this seems like a pretty easy way to potentially get some new stuff for free.
These new mystery products aside, only the Kush Mascara — which is available in both full and travel size — along with a pin and sticker set are the only parts of Milk's cannabis-inspired line so far. (However, Milk also created blotting papers that double as rolling papers.) The mascara, which was released in April of this year — 4/20, specifically — of course contains CBD oil, but not for the reason that may first come to mind.
According to Allure, the special ingredient offers a vegan alternative to using beeswax, which is commonly found in most other mascaras. It also gives the formula a creamier texture for a smooth application and easy removal. The brand also claims it helps to condition the lashes, which could increase lash health over time.
KUSH High Volume Mascara
https://go.skimresources.com?id=86205X1564317&xs=1&url=https%3A%2F%2Fwww.milkmakeup.com%2Fsearch%3Fcgid%3DKush
$24
Milk isn't the only company to hop on the cannabis train. Many other niche brands have long been selling CBD-infused products, but mostly for hair and body use.
Natural skincare brand Cannuka offers beauty products — like lotions, balms, and cleansing bars — made with some of that special you-know-what, all derived from hemp. The company makes it clear on the site thir products are THC-free (you know, the stuff that would ordinarily make you high) and just want their customers to enjoy the stress-relieving benefits of CBD.
To little surprise, Lush also offers products that are partly made with hemp oil. Its pre-shampoo Jasmine and Henna Fluff Eaze hair moisturizer, for example, uses hemp to make your tresses soft, while other ingredients like Brazil nut and extra virgin coconut oil control frizz for a smooth look after washing.
If the whole cannabis and hemp infusion just isn't your thing, Milk, of course, offers a slew of other products that are 100 percent vegan and cruelty-free. And if you'd like to focus more on skincare this summer, rather than just makeup, Milk recently dropped a Watermelon Brightening Serum a few months ago, which promises to even out your skin tone and add glow.
If you are curious to see what other Kush products Milk has coming up, you'll have to wait with the rest of us as we keep an eye out to see what may pop up on their Instagram feed in the coming days.