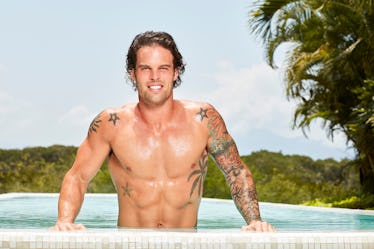 Here's Everything You Want To Know About 'Paradise's Canadian Kevin
ABC
In the words of Ashley Iaconetti on Bachelor Winter Games, Kevin Wendt is what happens when James Marsden meets Tom Brady. Although he may have the hybrid looks of an A-list star and an athlete, the Bachelorette Canada star actually spends his days IRL in a very down-to-earth job. If you were paying attention during Sept. 3's episode of Bachelor in Paradise, you probably caught him putting his skillset to use, so what is Kevin's job? He works in environments even steamier than the Mexican beach on Paradise.
When he debuted on The Bachelorette Canada in 2016, Kevin was introduced as a firefighter and Navy veteran originally from Ontario. Appearing as the relatable guy next door on Bachelorette Canada, Kevin proposed to leading lady Jasmine Lorimer at the end of the season, but their relationship ended soon after the finale. Kevin then kept his firefighter job throughout his following Bachelor Nation appearances. He briefly dated franchise mainstay Ashley I. after meeting her on Bachelor Winter Games, and is now on Bachelor in Paradise, where he's become #relationshipgoals with Bachelor Season 21 contestant Astrid Loch. Although you may mistake it as a Magic Mike outtake, Kevin's Paradise intro even shows him in suspenders and his firefighter hat.
Cute, but it's no Grocery Store Joe intro, right?
If you were keeping a vigilant watch on the drama that quickly unfolded within the last few minutes of Sept. 3's Paradise episode, you would've noticed Christen "Scallops" Whitney feeling faint after being eliminated at the rose ceremony. Totally solidifying their status as the mom and dad of the cast, Astrid held back Christen's hair while Kevin put his emergency training to use. As Christen sat down, Kevin begin asking her how she was feeling and asked for an EMT to provide oxygen for her. The episode ended before we received an explanation about what was happening with Christen, but it definitely looked as if Kevin was about to save the day.
Kevin playing the hero came soon after viewers sympathized with him for having to witness his ex Ashley becoming engaged to Jared Haibon on the Paradise beach. The couple's engagement followed Ashley reportedly cheating on Kevin with Jared, but despite the elephant in the room, Kevin saved the drama for a private talk with Astrid rather than in front of the happy pair. After congratulating Ashley, he left the scene of the proposal to share his true feelings with Astrid. While he wasn't vicious about the couple, he admitted to just feeling odd about having to watch Jared's proposal when he played a "monumental part" in Ashley's dating life. Interpret that sneaky wording as you will.
He communicates, he fights fires, and he loves puppies. Astrid is a lucky woman.
Given his profession, Kevin knows how to stay calm in moments of pressure, but his relationship with Astrid shows no signs of cracking anytime soon. Based on some photos on Kevin's Instagram, it looks like the duo totally accepted the labels of Mom and Dad among the cast. We'll have to wait and see if something causes their relationship to implode in the remaining episodes of Paradise, but if there's one fire Kevin can't put out, it seems to be his bond with Astrid.
Bachelor in Paradise continues on Tuesday, Sept. 4, at 8 p.m. ET on ABC.