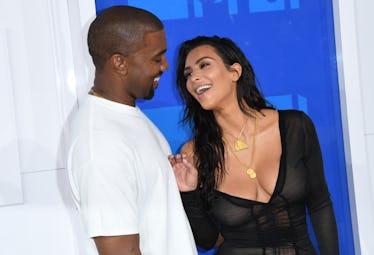 Kim Kardashian Is Celebrating Her Birthday The Cutest Way With Kanye & We're Swooning
ANGELA WEISS/AFP/Getty Images
If you've been keeping up, then you know that Oct. 21 is Kim Kardashian's birthday. The soon-to-be mother of three will be celebrating her 37th birthday today with some surprisingly classic birthday activities. She won't be doing it alone, though. Read on to find out about all what Kanye is doing for Kim Kardashian's birthday.
When you think of a Kim and Kanye celebration, you're mind likely goes to an extravagant destination wedding or an over-the-top gorgeous flower wall. According to E! News, the birthday girl will be celebrating today in a more toned-down style. Kim took to her app on Friday to share that she and Kanye will keep things "super low-key" with her family at mom Kris Jenner's home in Calabasas.
Proving that she might be just like the rest of us, Kim will reportedly be sharing brunch with the fam. See, even a famous family like the Kardashians can't resist the most perfect weekend meal ever created. There's no word on what's being served for the main course, but we do know that they'll definitely be having dessert.
When it comes to birthday sweets, Kim is not going to deny herself on her special day. She wrote on her app that she'll be "indulging in Khloe's strawberry cobbler." Um, that sounds amazing. Maybe she'll post the recipe to her app so the rest of us can try it.
Since it's her birthday, Kim isn't limiting herself to just one sweet treat (why should she?). She also wrote on her app that her go-to for the all-important birthday cake is Hansen's Cakes, located in Los Angeles. Sounds delish!
Now, I could talk about Kim's birthday eats all day, but the star also had some insights to share regarding her thoughts about getting older. She wrote, "Feeling like I found the meaning of life, finally!" It's nice to hear Kim feeling so positive about getting older, especially after last year's birthday.
You'll remember that her birthday was just after the Paris robbery last year, so Kim definitely kept things low-key. A year later, though, she's back on Instagram (and killin' it), and she also wrote on her app that she's "grateful for my new outlook in life." I can't imagine what it was like to go through such an ordeal, but it sounds like Kim has worked hard, likely with plenty of support from Kanye, her sisters, and her mom, to see the bright side of life again.
I'm not sure what Kanye will be gifting his wife with this year. It's very likely he got her something pretty special, but as much as I love to see (and get major gift-envy) the extravagant presents the pair usually gets for one another, it sounds like all the gifts that Kim is treasuring this year don't come wrapped up in a bow. According to Entertainment Tonight, she shared on her app that she is "looking forward to so much joy!"
Now, joy can come from expensive gifts, but I think that Kim is talking about just surrounding herself with family and enjoying their time together. If you watch Keeping Up With The Kardashians, then you know that the Kardashian crew is a pretty big one (they better bring out the extra-long table for brunch), and they do spend a lot of time together. So, I really do think that the joy for Kim this birthday will come from being with Kanye, her daughter and son North and Saint, and the rest of her family. Next year, she'll be able to add one more to the table. I'm sure the excitement of expecting her third child with Kanye via surrogate is wrapped up in her birthday joy today as well.
Sounds like she has quite the special birthday planned. I'll go look for my invite now.
Check out the entire Gen Why series and other videos on Facebook and the Bustle app across Apple TV, Roku, and Amazon Fire TV.