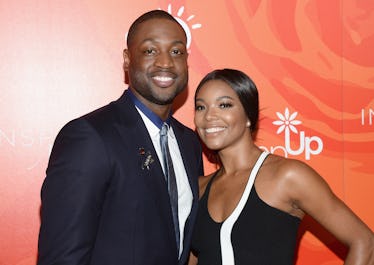 Gabrielle Union & Dwyane Wade Just Revealed Their Baby's Beautiful Name
Matt Winkelmeyer/Getty Images Entertainment/Getty Images
It's already been a week since Gabrielle Union and Dwyane Wade welcomed their adorable baby girl. After surprising fans with the baby's birth announcement on Instagram, the happy couple has now revealed the baby's name on Insta as well! So, what is Gabrielle Union and Dwyane Wade's baby name? Union and Wade have decided to call their baby girl Kaavia James Union Wade! Is that not the loveliest name?
Union and Wade revealed their baby's name in an Instagram post on Thursday, Nov. 15. In the photo, which was posted by Wade, he shows a top-down view of his shoulders and on them is his daughter's name. One shoulder reads "Kaavia" and the other reads "James."
In the caption of the photo, Wade gave some background on the photo. Apparently, it's a throwback!
"#TBT Goes back to that one night in China when i decided to get my daughters name tattooed on me. Kaavia James Union Wade! #paternityleave," Wade wrote.
What a sweet and clever way to announce the baby's name. It's so clear from the photo that Wade has lots of love for little Kaavia. There's no doubt that Wade will be an awesome dad to her. He's got three other children, so he's had plenty of practice. Raising Kaavia will be a breeze, I'm sure.
In any case, here's the photo Wade shared on Instagram:
Wade and Union welcomed their baby in early November 2018 and announced her birth via Instagram on Thursday, Nov. 8. The baby was born via surrogate after a long journey dealing with infertility.
The Nov. 8 Instagram post included several photos of Union, Wade, and little Kaavia all together. Both Wade and Union posted the exact same photos with the same caption.
In the caption, both parents included lyrics to "Lovely Day" by Billy Withers to show how much they love their new baby girl. Here are the lyrics they posted:
When I wake up in the mornin' love / And the sunlight hurts my eyes / And there's something without warning, love / Bears heavy on my mind / Then I look at you / And the world's alright with me / Just one look at you / And I know it's gonna be / A lovely day / A lovely day
Then they wrote a really sweet message welcoming Kaavia into the world. "We are sleepless and delirious but so excited to share that our miracle baby arrived last night via surrogate and 11/7 will forever be etched in our hearts as the most loveliest of all the lovely days. Welcome to the party sweet girl!" the caption read.
See the sweet post down below:
Needless to say, Union and Wade are beyond ecstatic to have a new baby in their lives, especially after longing for a baby for so long. According to People, Union detailed her experience with infertility in her 2017 memoir We're Going to Need More Wine. In the book, she revealed that she "had eight or nine miscarriages."
So, little Kaavia is definitely a blessing and a surprise for the lovely couple!