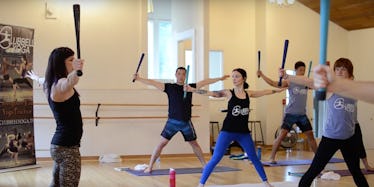 Clubbell Yoga Is The Workout That'll Make You Feel Like A Badass, Yet Graceful Warrior
As a yoga teacher, I'm not going to lie: I've often cringed at the many bizarre kinds of yoga that have been popping up in the wellness world over the last several years. I remember when someone invited me to a "drunk yoga" class a couple of months ago, and I legit pictured ancient yogis rolling over in their graves in disapproval. To be fair, though, not all of the trends are totally whacky. I adore goat yoga, I've been dying to try chocolate yoga, and now, clubbell yoga is officially a thing, and I think I need to try it ASAP.
If you've never heard of clubbell yoga, think of it as an empowering, strengthening, yoga-inspired workout, in which you can channel some major Mulan vibes. Sounds pretty freaking awesome, right?
In an interview with POPSUGAR, Summer Huntington, MS, founder of clubbell yoga and director of Yoga RMAX International, explained the gist of this uniquely empowering workout:
Clubbell Yoga is strength training infused into Vinyasa yoga. Imagine holding a three-pound or five-pound club (modeled after ancient Indian clubs and gadas — weapons used to train warriors for battle) and floating through poses and transitions.
In a clubbell yoga class, you're guided through traditional yoga poses, with the addition of a 12-inch-long steel club that'll basically make you feel like an unstoppable, badass, warrior princess.
Essentially, clubbell yoga bridges the gap between strength and yoga, which can be extremely beneficial in preventing common yoga injuries, which tend to happen when you rely too heavily on innate flexibility, as opposed to channeling and using your body's inner strength.
On the official clubbell yoga website, Huntington said her classes are accessible to anyone and everyone, "whether you are a complete beginner or a high level athlete." The classes are meant to make the most of the time you spend on your yoga mat in a totally unique way, by building your strength, endurance, dynamic flexibility, and by maintaining a strong focus on bodily alignment. Huntington told POPSUGAR,
First timers usually leave class feeling like they got a full-body fascial [of the thin, fibrous tissue enclosing your muscles and organs] massage, finding mobility they didn't know they had. The next day, they feel like they worked hip and shoulder muscles they had no idea existed. It wakes up all the sleepy muscles that tend to turn off in a regular yoga class, and kicks your ass gently into full performance mode.
So who wants to hit up a clubbell yoga class with me, like, ASAP?
As for the teachers of these classes, they're constantly training to learn and perfect Huntington's method, and there's even an instructor locator page on the clubbell yoga site, where you can see if there's a teacher/class near you, so you can begin basking in all that badass-warrior goodness.
If you're an experienced yogi who already knows a thing or two about proper alignment and the like, clubbell yoga is totally doable as a home workout, as well.
Huntington provides tutorials and free classes on her YouTube page to make her awesome yoga workouts available to as many people as possible. So, if you're already familiar with typical yoga props like blocks, straps, bolsters, and blankets, then I'd say it's high time you add a new, ironclad prop to your collection, fam — at least until this type of yoga finds its way to more studios. Huntington said on the clubbell yoga website,
Someday in the near future, I envision that Clubbells will be accepted props in a yoga studio, and yogis will have a new way to train for yoga and strengthen their practice.
Personally, I'll be investing in a clubbell of my own, ASAP. I mean, come on, would anything make my 5-year-old self more proud than to be the yogi version of Mulan? Yeah, I didn't think so.