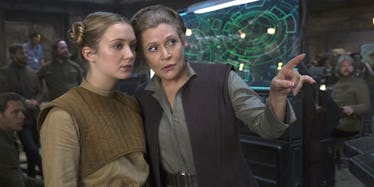 Billie Lourd Is Clearly Following In Carrie Fischer's Footsteps With Her 'Last Jedi' Role
Walt Disney Studios
Carrie Fisher's legacy will live on in Star Wars: The Last Jedi, which will feature not only the late actresses final turn as Leia Organa, but also a larger role for her daughter Billie Lourd. In the first chapter of the new iteration of the space sage, The Force Awakens, Lourd had a bit part as a lieutenant in Leia's Resistance, but her character of Kaydel Ko Connix will apparently be a larger part of The Last Jedi. Here's everything we know about Billie Lourd's role in Star Wars: The Last Jedi, and how Lieutenant Connix may figure into future movies in the franchise.
Originally, Billie Lourd had actually auditioned to play Rey, the lead of The Force Awakens and The Last Jedi. She revealed that Force Awakens director J.J. Abrams called her in for the lead role because he wasn't able to find anyone for the part, but shortly afterwards he found Daisy Ridley. Abrams still wanted to include Lourd, though, and gave her the smaller part of Lieutenant Connix, an officer in the Resistance who shares screen-time with Carrie Fisher's Leia Organa. Despite her family's illustrious career in show business, The Force Awakens was actually Lourd's very first acting part, coming after her parents had reportedly urged her to steer clear of the biz. The small part caught the eye of showrunner Ryan Murphy, who cast Lourd in lead roles in two of his shows: Scream Queens and American Horror Story: Cult. Her reprisal of Lieutenant Connix in The Last Jedi will mark her second movie role.
It's understandable if you missed Lourd's part when watching The Force Awakens; she only appeared on-screen briefly and her only line was "General, are you seeing this?," which she delivered to her mother. But apparently, Kaydel Ko Connix will be a bigger part of The Last Jedi. Lourd has been tight-lipped about what her part in the upcoming movie will involve, but she did confirm to SlashFilm that Connix is back in Episode 8, and that the role will be less "Where's Waldo-y" than it was in the first flick. As for how much more we will be seeing of Lieutenant Connix, we will just have to wait until Dec. 15 to find out.
And there is some potential for Lieutenant Connix to grow into an even bigger part of the Star Wars universe in the future. As we are all tragically aware, Carrie Fisher died at the end of 2016, making The Last Jedi the last time she will appear as Leia Organa in the Star Wars universe. But, what better way to continue Fisher's legacy in the iconic franchise than by having her daughter take over command of the Resistance? Since we sadly have to say goodbye to Leia, it might be a poignant and also logical next step for the franchise to have Billie Lourd's character step up and fulfill the leadership position that the General will have left behind. I mean, Connix is already a Lieutenant in the Resistance, so she could definitely advance up to lead it if Leia has to depart. And it would be a touching way to keep Fisher's presence alive in Star Wars.
But for right now, all we really know about Billie Lourd's part in Star Wars: The Last Jedi is that she will be in it, and have more scenes than she did in The Force Awakens. Hopefully we can learn more about Kaydel Ko Connix in the new movie, and maybe even see her start to take on more responsibility within the Resistance.
Star Wars: The Last Jedi will hit theaters on Dec. 15.