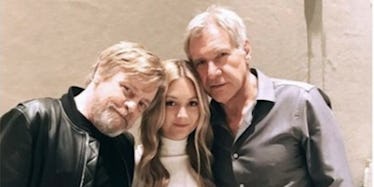 Billie Lourd Stands In For Carrie Fisher In Heartwarming 'Star Wars' Reunion Pic
Instagram
Princess Leia lives on.
Sadly, Carrie Fisher passed away at the end of 2016, but her daughter Billie Lourd kept her mother's memory alive at the "Star Wars" celebration on April 13.
Dressed in a Princess Leia-inspired white dress with billowy sleeves, Lourd stood in for her late mother in a sweet reunion pic of the film franchise's original main cast, posing between Mark Hamill and Harrison Ford.
Hamill noted how much Lourd is like her mother, writing that it felt like they were really back with Fisher,
So much like her mother in so many ways — it was almost as if we were cuddling our Princess again!
Check out the adorable "Star Wars" reunion pic below.
Awww, my heart can't take it!
Billie Lourd took to the stage at the "Star Wars" fan event to introduce a moving tribute to the life of her late mother. She took the time to tell the movie fans how much the character of Princess Leia meant to her mother.
According to Entertainment Weekly, she said,
She loved you because you embraced all of her. The strong soldier she was and the vulnerable side, who fought her own dark side. She loved this incredible character she got to create — this force, called Leia.
Lourd didn't just honor her mother with her words. The "Scream Queens" star channeled Princess Leia's iconic white robe with a fitted white dress. Check out some of the photos below.
Lourd shared the screen with Carrie Fisher in 2015's "Star Wars: The Force Awakens" as Lieutenant Connix, a role that she will be reprising for the upcoming "Star Wars: The Last Jedi" — the trailer for which just dropped earlier today.
Fisher will also be making her final appearance in her role as General Leia in the new film, which is due out December 15.
Citations: Billie Lourd stands in for mom Carrie Fisher in Star Wars reunion photo (EW)