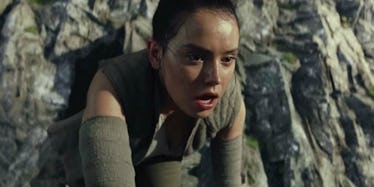 The First 'Star Wars: The Last Jedi' Trailer Is Here And You Need To Watch ASAP
Walt Disney Studios Motion Pictures
Your Friday afternoon just got a whole lot better... like, out of this universe better.
A short while ago, the official Star Wars Twitter account broke the internet by dropping the first official teaser trailer for "Star Wars: The Last Jedi."
In less than 20 minutes, the tweeted trailer, which runs for over two minutes, racked up over 35,000 retweets and 28,000 likes, and you really need to stop everything you're doing and watch this bad boy on loop.
We'll get to talking about "Star Wars: The Last Jedi" as a film in a minute, but first, sit back, relax and watch this epic trailer!
Are you with me now? Are you back from outer space? I know, me neither, but we have to talk about this trailer and what's maybe/definitely going to happen when this film comes out in December.
For starters, it's so awesome to see Rey and Finn back in action. Like, really, really awesome.
However, we also have to talk about Luke Skywalker, who appears to be training Rey in some remote location?
About a minute and 40 seconds into the above trailer for "Star Wars: The Last Jedi," Luke says,
I only know one truth... it's time for the Jedi to end.
WHAAAAA??? LUKE, WHAT ARE YOU TALKING ABOUT?
It also appears we see the back of Princess Leia at about 47 seconds?
I'm not sure, but I really hope that's Carrie Fisher, may she rest in peace.
As you can see in the new "Star Wars" trailer, there appear to be some pretty badass space battles coming up when this movie drops around Christmas time later this year.
God, am I the only one who gets a little aroused whenever an X-wing throws those S-foils into attack position?
Too far?
Because this trailer is so damn awesome, I think we all need to take another look at this masterpiece real quick.
It gets better, though, because around the same time the trailer for "Star Wars: The Last Jedi" dropped, so did the official movie poster!
Take a look at this bad boy!
I'm dead. Someone sweep my remains off the floor and put them inside R2D2 so I can live forever.
Citations: Star Wars: #TheLastJedi. Arriving in your galaxy December 15. (Twitter)