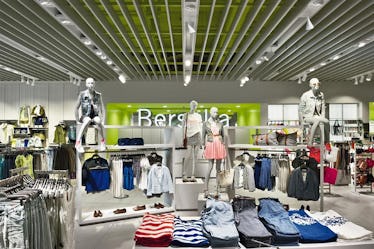 Zara's Sister Brand Bershka Is Now Available In The US & It's Even More Affordable
The company Inditex may sound unfamiliar to you, but you probably know it well. It's the parent company of Zara, maker of most of my wardrobe, and they have selfishly been hoarding their other brand, Bershka. You may be wondering, what is Bershka? Zara's sister brand is an amazingly affordable but equally trendy treasure trove of fashion.
Hip clothing purveyor Bershka has been available in Europe for quite some time now, and I don't know what took them so long to cross the pond — must be that they weren't ready for me, because I was born ready for them. Either way, I'm thankful they finally decided to expand to the States. Considering my borderline unhealthy obsession with Zara, Bershka and I should end up good friends...or even more.
The brand is geared for a slightly younger audience than Zara, which mostly translates to lower prices, which equates to me doing my happy dance. I'm talking hot shoes for $40, cool sweaters for $20, and dainty jewelry for less than $15. I've completed the arduous task of shopping through the entire Bershka website, with the end goal of finding the best of the best. Pretty much everything they offer gives me heart eyes, and most of it is in my shopping cart — hence why it was such a hard job, but someone had to do it, and I volunteered as tribute.
Here's what you should be buying from Zara's little sister store, before everyone else finds out about it.
Velvet Puffer Jacket
($60; bershka.com)
Say it with me now: Velvet. Puffer. Jacket. This looks comfortable enough to sleep in, and who is to say you can't? I'm also obsessed with that oversized zipper pull, I want it on all of my coats.
Sequinned T-shirt With Tulle On The Back
($40; bershka.com)
This reminds me of the very first Snapchat face filter, where it made you vomit rainbows, and I love it. Layer a black tank top underneath if you're not one to bare your bra.
Printed Tulle T-Shirt in Black
($20; bershka.com)
A sheer, long-sleeved shirt like this one can also be worn under the rainbow top, or on its own with a tank underneath.
Faux Leather Biker Jacket
($60; bershka.com)
If you ever need or want to instantly look like a badass, put on a biker jacket. This one also comes in four other colors to match your mood, and it's only 60 bucks.
Sports Pants With Side Stripes
($36; bershka.com)
Give me a pair of sweatpants that you can wear out of the house, any day and all day.
Sweatshirt With Side Slits
($20; bershka.com)
Speaking of sweats, a classic, comfy sweatshirt is a lazy girl must-have. This long version is perfect to wear with your leggings for when you just can't.
Blazer-Style Crossover Dress
($60; bershka.com)
Score some Kim Kardashian vibes in this getup. Wear it with stockings for a sultry look like hers, or over skinny black pants for a more family-friendly style.
Lace-Up Ankle Boots With Faux Pearls
($60; bershka.com)
I. Need. These. Boots. They are girly/biker/grunge, and they will be at my doorstep in four to eight business days.
Velvet Sneakers With Glittery Heels
($40; bershka.com)
These are kind of like modern day ruby slippers: Sneakers instead of heels, millennial pink instead of red, and just a hint of sparkle. There's no place like Bershka!
Mini Backpack With Zip in Red
($20; bershka.com)
This little guy is not exactly meant for those days when you have to haul around your makeup, computer, and practically everything that you need to exist. But look how cute!
Cascading Fringe Earrings
($16; bershka.com)
Whoa, these earrings look expensive AF. Spoiler alert: They're not.
Set Of Geometric Stone Rings
($13; bershka.com)
Bershka, $13 for six rings, why are you so good to me? You can wear one of these at a time for some easy every day bling, or pile them all on across your hands if you're feeling some extra ice.
Flavoured Lip Balm Crayon in Juicy Watermelon
($10; bershka.com)
Hold the phone, Bershka has beauty products too! I'm done.