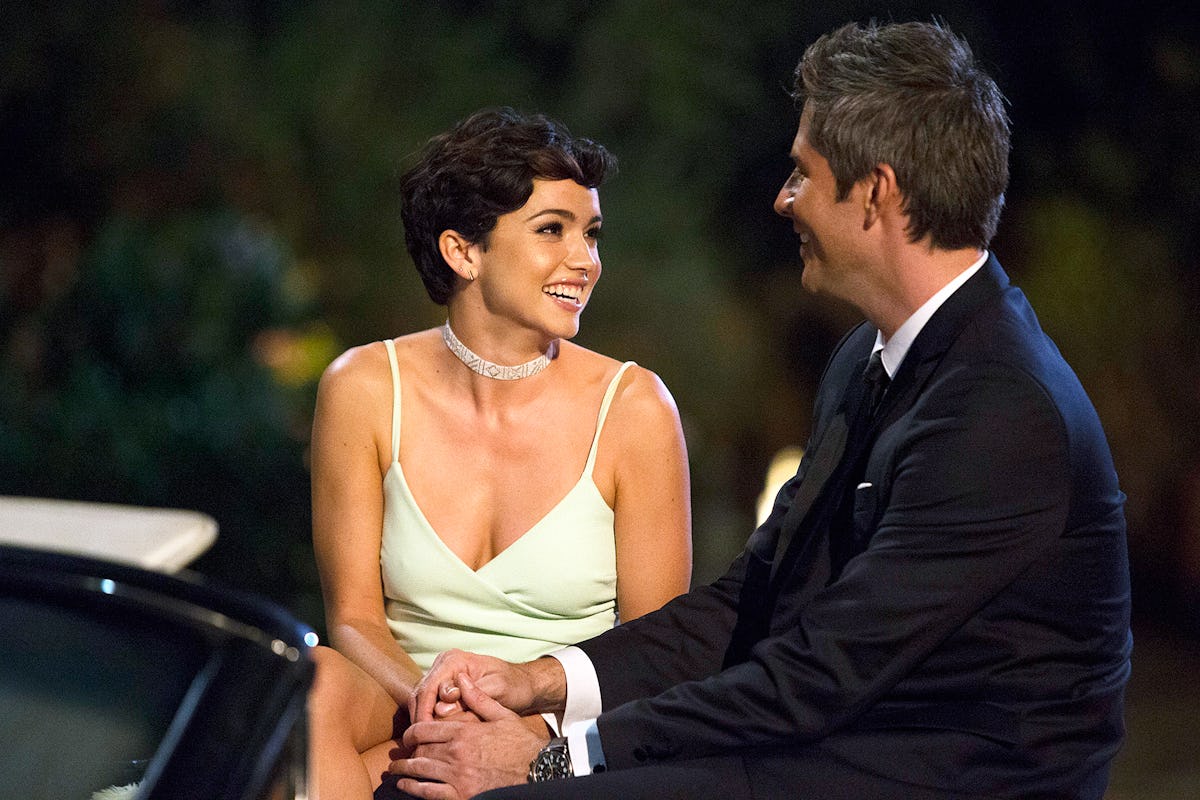 Here's What Bekah M. Is Doing After Getting Kicked Off 'The Bachelor'
ABC
Bekah M. made quite the impression on Arie Luyendyk Jr. and Bachelor Nation throughout the current season of the long-running reality dating series, but unfortunately her time on the show came to an end right before hometown dates. The 22-year-old from Los Angeles brought spunk, humor, and buzzed-about short hair (a Bachelor first) to Season 22 and dare we say, we already miss her. It's been a few months since that fateful day in Tuscany when she said her final arrivederci to Arie. So, what is Bekah doing after The Bachelor? The nanny is back in Los Angeles. And, no — she's not a missing person.
Bekah made headlines two weeks ago, prior to her surprise Bachelor elimination, when she mysteriously showed up on a missing persons list for Humboldt County, California. The local paper published an article featuring 35 people with unknown whereabouts and lo and behold — there was Bekah's face and name on the roster. Fortunately, it was all a big misunderstanding, as Bekah was clearly fine (she's literally on TV every week), but that doesn't mean we weren't all seriously confused by the debacle.
So, what's a gal to do after getting the boot from one of the most popular programs on TV? Do the press rounds, of course. And set the record straight while she's at it. Following Monday, Feb. 12's episode, where she was sent home on a group date instead of Kendall and Tia (more on that later), the adorable fan fave hit up Jimmy Kimmel Live! and Good Morning America to get her interview on. When asked about the whole "missing persons" ordeal, here's what she told Michael Strahan regarding the story:
Obviously I couldn't set the record straight at the time because it would give away that I was, in fact, eliminated. I was about a week off the show, I needed just some time to get away and decompress. I went up north up into the mountains with some friends. I planned to stay for a couple weeks, I was there for six or seven days with no phone service, which I told my mother I would have phone service because I thought I would. And then I just had this weird feeling that I needed to go home all of a sudden.
She then proceeded to call her parents, but her mom had already reported that she was missing 12 hours earlier. And herein lies the misunderstanding: Apparently the sheriff's office needed to hear from Bekah directly to confirm she was safe and sound. That didn't happen until just a couple weeks back.
So, there you have it. Bekah was just chillin' with some friends in the mountains and suddenly she's on a missing persons list. It happens!
Aside from solving her own disappearance case, what else has Bekah been up to? She told Jimmy Kimmel she's currently "picking up the pieces" as she goes along after her shocking exit. She ended up not getting a rose after Tia told Arie that Bekah might not taking the process seriously. Yes, she's spoken to Tia since that went down, but it was "against her will."
Bekah has also kept in touch with all of the women since her time on the show, especially Kendall. Aww, nothing brings people together like competing for the same guy on national TV. We love when friendship blossoms in Bachelor-land.
Bekah continues to nanny in Los Angeles. "To set the record straight, I am not a weed farmer, I'm still a nanny in L.A.," she mentioned on Kimmel. According to her FOMO-inducing Instagram, she's still making time to rock climb and go on little adventures post-Bach life.
Bekah, keep doing you. You had us from the moment you called out Arie for saying excitement makes him excited.