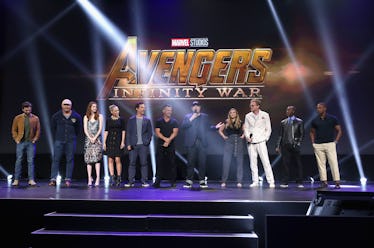 Marvel Plans To Change Everything After 'Avengers 4,' So Start Mentally Preparing
Jesse Grant/Getty Images Entertainment/Getty Images
Let's begin at the beginning. In 2008, Marvel attempted something it had never done before: make an in-house movie about just one of their characters. Prior to that point, Marvel's movie-making work was always leased to established studios: Sony, 20th Century FOX, Universal. That movie, Iron Man, was such a huge success that, 17 movies and counting later, Disney's Marvel Cinematic Universe is *the* comic book universe franchise. By May of 2019, they will have reached their 22nd film, with the second part of the film originally called Avengers: Infinity War. But what is Avengers 4 about, other than man's attempt to stuff as many superhero guest stars into a single film without physically melting the celluloid it's printed on?
It's a running joke at this point how many superheroes appear in these joint films, but it's also a testament to how many standalone films Marvel has managed to create in the last decade that they wind up with so many characters to include.
In the beginning, it was merely a motley crew of C-list characters the comic company hadn't already leased away to other studios: Iron Man, Hulk, Thor and Captain America. Now, they have everyone from Spider-Man to Doctor Strange, to the entire Guardians of the Galaxy crew to Ant-Man. (Though that last one should be able to fit fine.) And that's not counting the standalone characters still to be introduced, like the highly anticipated Black Panther and Captain Marvel.
Iron Man arrived on May 2, 2008, so when Avengers: Infinity War arrives on May 4, 2018 (movie #19) it will mark the company's 10th anniversary, and nine years since being acquired by Disney.
Speaking to Vanity Fair, producer Kevin Fiege says they're not slowing down either.
Marvel is... 22 movies in, and we've got another 20 movies on the docket that are completely different from anything that's come before —intentionally.
Another 20 movies? And you thought Star Wars was going to go on forever. But can one really picture actors like Chris Evans (who is openly tired of playing Captain America on screen) sticking around for that? No. And neither can Disney, or the MCU. Which is why when we reach the end of Avengers 4, it will not only be the end of "Phase III," as Marvel calls this run of movies, but of the series as we know it.
Avengers 4 will... bring things you've never seen in superhero films: a finale. There will be two distinct periods. Everything before Avengers 4 and everything after. I know it will not be in ways people are expecting.
Does this mean we will see characters like Iron Man, or Captain America, die on screen, only to see others pick up their mantle? Maybe. Or perhaps, like in the comics, they will retire and pass it on to the next generation. We've already seen the possible foundations of such a move planted in the Spider-Man: Homecoming film.
Some of this is merely logistics. Both Chris Hemworth and Chris Evans are out of contract after the fourth Avengers film, as is Mark Ruffalo. Robert Downey, Jr. and Scarlett Johansson have been on a film-to-film contract since Ultron, and are getting more expensive all the time. (Though, considering the success of Thor: Ragnarok this past month, Hemsworth might be cajoled into staying for one final stand alone before calling it a day.)
Plus, with so many other superheroes jostling for room, they're not needed anymore. Consider instead an Avengers movie where Black Panther leads a team of Captain Marvel, Gamora, and Wong. It's the 2020s! The MCU is only limited by their imagination.