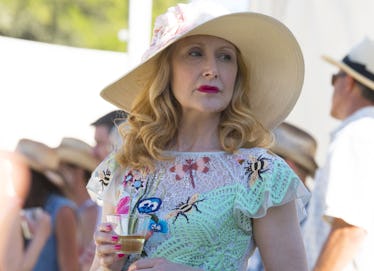 Adora's Behavior On 'Sharp Objects' Is Wildly Suspicious For These Big Reasons
HBO
Ever since Camille arrived home in Wind Gap, her relationship with her mother has been delicate, to say the least. Adora hasn't wanted to deal with the idea Camille came home to report on the murders of Natalie Keene and Ann Nash. When Camille brings it up, Adora shuts it down. When people in town want to talk to her about it, Adora refuses to engage. At first, it seems like it's just the emotional response of someone who lost their own child, but now it's starting to get suspicious. What is Adora hiding on Sharp Objects? Warning: Spoilers For Sharp Objects follow. This post only discusses the happenings in the TV series so far.
This week, Adora took everything a step further. Upon hearing actual evidence of Ann Nash's murder had turned up on her property, she immediately told her workers to do nothing until she got there. She then hid the evidence had shown up from Camille, allowing only Vickery and Detective Willis to be present.
This is a step beyond not engaging with the crimes. This is actively working to undermine Camille's ability to do her job. Now, to be fair, Adora works to undermine Camille at all times in all ways, just out of rage and spite. But in the context of the case, it's also really suspicious.
Consider the following:
Camille, when she discovers her mother betrayed her like this, gets mad because she wasn't there to see Bob Nash's reaction. She starts pelting Adora with questions about how he responded. But what if what Adora didn't want Camille to see was her own response? Camille knows Adora better than anyone. What if she feared Camille would see through her?
Detective Willis' response upon finding the bike "Is the killer stupid?" Why would they hide it here? Why indeed? Willis thinks it's a setup, to throw suspicion on John Keene (who worked for Adora when the murders were committed) or Nash, who works there still. But what if they threw it there because it was fast and convenient, and no one would suspect the owner of doing so?
Ashley's comment at the party to Camille: "You wanna know about Natalie, you should ask your mom." Ashley freaks out when Camille starts asking questions about the ear bite. (Remember John admitted Natalie did something similar in Philly.) But she won't talk about it. Instead, she suggests Adora knew way more about the dead girls than she's letting on.
But Camille probably isn't going to get much of a chance to talk to Adora about much of anything. Adora has decided one three question interview session was quite enough, and she's sicked Alan on getting Camille to leave. It hasn't worked. At least, not yet.
It might have, Camille seemed pretty ready to take off and go elsewhere after her talk with Alan. But Amma took her to the party, got her pretty smashed, and then brought her home. It's another chance for Camille to push for answers, but will she like what she finds?
If you or someone you know is considering self-harm or experiencing suicidal thoughts, call the National Suicide Prevention Hotline at 1-800-273-8255 or text HOME to the Crisis Text Line at 741741 or the Substance Abuse and Mental Health Services Administration (SAMHSA) at 1-800-662-HELP (4357).