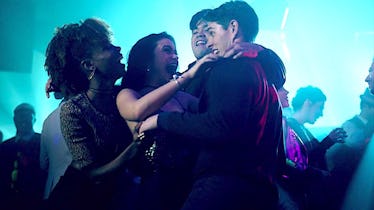 'Riverdale' Boss Teases This Season Will Have A Lot Of Kevin, Josie, And Reggie In It
CW
The second season of Riverdale came back with a bang, and the craziness is only just getting started. The first season introduced us to Archie Andrews, Betty Cooper, Veronica Lodge, and Jughead Jones, but now that Season 2 has nearly double the amount of episodes to work with (22 compared to last season's 13), showrunner Roberto Aguirre-Sacasa teased that we're going to learn a lot more about the Riverdale's secondary characters, specifically Kevin Keller, Josie McCoy, and Reggie Mantle.
Aguirre-Sacasa revealed that Season 2 of Riverdale will include a major focus on previously supporting characters Kevin, Josie, and Reggie in a new interview with Variety. Although the three characters only appeared briefly in Wednesday night's Season 2 premiere — Kevin briefly chats with Betty about her relationship with Jughead, and both Josie and Reggie show up at the hospital to support Archie when they find out his dad has been shot — fans are apparently going to see a lot more of them soon enough in the new season. Get all the info about what to expect from the characters in upcoming episodes below.
First up, let's talk about Kevin Keller. Roberto Aguirre-Sacasa noted how in the first season, Kevin served as a funny, optimistic character who would often hang out with the core four, but his story in Season 2 will be much darker. The showrunner said we can expect to see "the dark side of his romantic life" play a major role this season. Fans already know Kevin had a pretty dark romantic storyline in the first season, when he began a secret relationship with a member of the Southside Serpents name Joaquin, so I guess we can expect things to get even more twisted with Kevin's love life very soon. Aguirre-Sacasa also said that we're going to see Kevin come into conflict with one of his best friends, Betty Cooper, as the season progresses. Hmm, interesting.
Moving on to Josie McCoy; last season was pretty much all focused on Josie's drive to become a professional musician as the lead singer of the Pussycats, but we're going to see more layers to her character in Season 2. Aguirre-Sacasa says that Josie becomes a bigger part of the show's central group of friends this season; in particular we will see her friendship with Cheryl Blossom come front and center. Another major part of her story will involve her mother, who happens to be the mayor of Riverdale. We saw her conflict with her controlling mother a little bit towards the end of Season 1, and apparently that tension will continue to be a big part of Josie's storyline coming up.
And finally, Reggie Mantle. It was pretty surprising to most fans of the Archie comics that Reggie was such a minor part of the first season, considering he is kind of like the fifth member of the core four in the comic books. But this season, the show will give Reggie his shine. And if you think Reggie looks different in Season 2, you're right — Riverdale had to recast the role with actor Charles Melton after Season 1's Reggie Ross Butler left the show to focus on his work on 13 Reasons Why.
The showrunner said that unlike Season 1, Reggie will appear "practically in every episode" of Season 2. As for his storyline, he will apparently be causing problems for Archie (something he did a lot of in the first season as well), and we're also going to see him develop a relationship with Josie! Aguirre-Sacasa didn't explicitly clarify if this Reggie-Josie relationship would be romantic or not, but it sounds like it will be. Shippers, start your engines: Rosie (Reggie + Josie, cute right?) is coming.