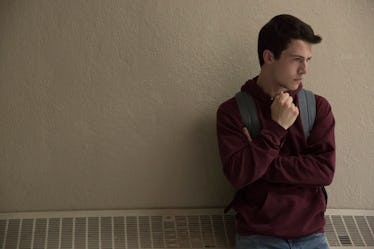 Clay From '13 Reasons Why' Gave Major Details About Season 2 & We're Not Ready
Beth Dubber/Netflix
13 Reasons Why won't return to Netflix until sometime in 2018, but info about what to expect from the show's second installment is slowly rolling in. Though the series second season, which wrapped filming in December of last year, has been shrouded in a great deal of secrecy, star Dylan Minnette was able to reveal a few details about its future. In a recent interview with Seventeen Magazine, he spilled about what happens to Clay in 13 Reasons Why Season 2 and how Hannah will be involved moving forward. And, yes — we can anticipate enlightening flashbacks, but those won't necessarily include a lot of Clay and Hannah together.
From everything we've seen thus far, it sounds like the second season is going to flesh out the characters and show new sides to their identities we haven't previously been privy too. I think it's safe to say that fans of the series are ready to get to know these teens (and their families) on even deeper levels as time goes on. And when it comes to Hannah's complex narrative, there's more than meets the eye. "It would have been weird to end Hannah's story in season one because we only heard very small tidbits of her life told by her," Dylan explained. "There's a whole life that Hannah had, and there's more we can learn about her. Overall, learning more about her is more important to the entire narrative."
Another development in Clay's personal life? Skye Miller doesn't appear to be going anywhere. Minnette hinted that his relationship with his old BFF/Monet's waitress might just evolve into something romantic:
I can't say too much, but Skye is still around and in the picture and there's a chance that her and Clay could be friends or more. That's something you'll learn pretty quickly when the season starts. I don't want to spoil that for you, but she's around.
It will be interesting how the show navigates the aftermath of Season 1, while continuing to fill us in on Hannah's history. Katherine Langford, who plays Hannah, also shared some details about how the upcoming season will depart from the first. She told Entertainment Weekly back in December,
You see a very different Hannah in Season 2. I would prepare fans not to expect the Hannah from Season 1 for a multitude of reasons... It's funny because I just wrapped and I think a lot of this season for me is about letting Hannah go.
Season 2 will also introduce audiences to at least seven new cast members, according to Variety. Characters include Cyrus, "an edgy, cynical mischief maker," his artsy sister Mackenzie, a Liberty High track star named Nina, and Sonya, a "smart and ambitious young litigator."
In addition to these unfamiliar faces, the show will shine a light on Jessica (Alisha Boe) in the wake of what she experienced last season. Showrunner Brian Yorkey told EW,
When people intimate that Jessica's story is done, I find that a horrific thought because Jessica is just beginning the process of recovering from her rape, and we have a rapist who has not in any way been brought to justice. To leave those two things hanging out there in the world would be upsetting. I want to see how that at least starts to play out and I want to do Jessica's story the deserved justice of following her as she goes back to school, as she tries to begin to recover from what happened to her, because it's something that millions of young women go through.
The cassettes might be over for now, but it's clear that new chapters to Hannah, Clay, Jessica, and other characters stories will unfold when 13 Reasons Why returns.