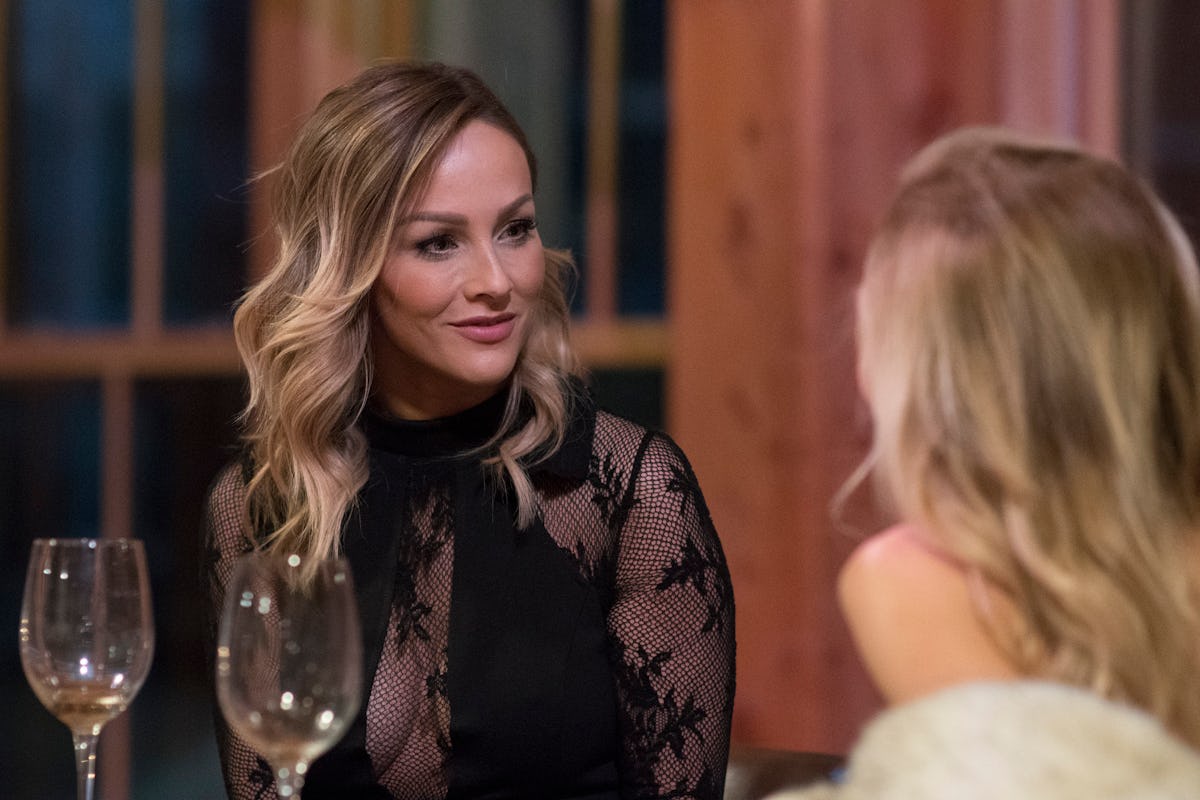 Here's What Happened To Clare From 'Winter Games' During Her Time On 'The Bachelor'
If you're familiar with Bachelor Winter Games contestant Clare Crawley and her past ventures in Bachelor Nation, then you probably picked up on the scary similarities between her time on The Bachelor and her recent Bachelor Winter Games drama. However, her stint on Season 18 of The Bachelor was in 2014, so more recent fans of the franchise may not remember what Clare experienced with Bachelor Juan Pablo Galavis. So, for anyone who may have missed her first Bachelor Nation appearance, what happened to Clare on The Bachelor?
Appearing on Season 18 as a 32-year-old hairstylist, Clare was quickly noticed by fans thanks to her introducing herself to single dad Juan Pablo while wearing a fake pregnant belly. Although most women who pulled that kind of stunt probably wouldn't stay around long, Clare quickly became a favorite of Juan Pablo's. However, they developed a tumultuous relationship once the group of women had reasonably decreased.
When the season was filming in Vietnam, Clare won the rose on a group date. She and Juan Pablo had private time together in the pool while on the date, but Clare stirred some feathers when she snuck out of the women's hotel later that night and asked Juan Pablo to swim in the ocean with her.
Later at the rose ceremony, Juan Pablo told Clare that he regretted their swim together, low-key shaming her for taking control of her relationship with him. Despite the impact the incident left on Clare, many of the other women didn't even know about their secret time together until the moment aired, discussing their obliviousness on the Women Tell All special.
Meanwhile, Clare was absent from the Women Tell All taping because she made it to the final two alongside pediatric nurse Nikki Ferrell. After the Vietnam scenario, it seems that Clare never fully gained back her trust of Juan Pablo. After becoming disgusted with a comment he made during their fantasy suite date, she chose to call out his behavior when he rejected her at the proposal stage.
In her legendary tell-off, Clare referenced the two other women, including future Bachelorette Andi Dorfman, who chose to leave after feeling that their relationship with Juan Pablo was lacking. She wanted a similar situation in which Juan Pablo shared the truth about his feelings before Clare had committed to the idea of getting engaged to him.
Juan Pablo infamously danced around true feelings about all of the women this season, even just telling his final pick Nikki that he liked her "a lot." The former Venezuelan soccer player also gained notoriety for his unintentional catchprase, "It's OK," with Andi pointing out his reliance on it in a moment that was later parodied on The Tonight Show with Jimmy Fallon.
So, imagine longtime fans' surprise when Clare ended up in an initially fun, innocent love triangle on Bachelor Winter Games with two foreign men who each had their Juan Pablo-esque qualities.
First, there was Bachelorette Canada alum Benoit, who was honestly a total sweetheart head-over-heels for Clare. He was totally ready to commit to her, but was torn apart at her flirting with Bachelorette Germany contestant Christian. Ultimately, when Clare couldn't decide between the two men, Benoit decided to leave the competition.
Ugh, just when I had my fingers crossed for your happy ending, Clare!
If you watched carefully, you would've seen a subtitled Benoit tell Clare, "It's OK" when she was apologizing for their break-up. Did Winter Games producers really have to subtitle that? Were they trying to make a subtle connection to Juan Pablo?
While Benoit's vocal similarity to the vilified Bachelor was more coincidental, Clare continuing her relationship with Christian proved that this guy is essentially the German J.P. He was angry with Clare for not living up to her promise to spend time in the Jacuzzi with him, but Clare kept reminding him that that Jacuzzi was packed with other people. And, yes, that was the main point of their argument.
And there she goes again, telling a foreign guy, "It's not OK!"
While she doesn't seem to realize that she's stuck in a relationship with her past, Clare still accepted Christian's rose at the end of the episode. I don't know about you, but I've watched this woman try to find love so many times that I just want her to track down Benoit in next week's episode and have his adorable French-speaking babies.
We'll see how Clare's relationship with Christian fares when The Bachelor Winter Games returns on Tuesday, Feb. 20 at 8 p.m. ET on ABC.