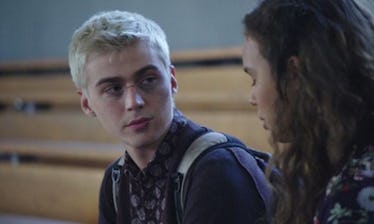 Refresh Your Memory On Alex Standall Before '13 Reasons Why' Season 2 Hits Netflix
Netflix
Season 1 of 13 Reasons Why debuted back in March of 2017, so as the next season approaches, you might be in need of a refresher. The first installment focused on 17-year-old Hannah Baker's suicide and the 13 cassettes she left behind that explain what led to her taking her own life. Season 2 promises "the tapes were just the beginning," but in order to dive into the next chapter, it's helpful to look back at what transpired on those enlightening recordings and beyond. What happened to Alex at the end of 13 Reasons Why Season 1? The character is integral to Hannah's story and left the audience with some serious questions in last year's finale.
Hannah's tapes outlined the events and people that as she said in "Tape 7, Side A" broke her heart, spirit, and soul, and helped to destroy her reputation. Hannah puts Alex (Miles Heizer) in the latter category, but how was the teenager involved in her life? And how did his arc conclude in Season 1? Here's what to know about Alex Standall's past and future.
He was friends with Hannah and Jessica.
Alex, Jessica Davis (Alisha Boe), and Hannah were shown to be a close-knit friendship trio before things fell apart. The pals frequented Monet's coffee shop together and bonded over the "FML" moments that plagued their daily lives. Eventually things went south for the group when Alex and Jessica paired off as their own twosome and began dating, thus leaving Hannah out. This leads to a fallout between Jessica and Hannah when Jessica refused to sleep with Alex, causing him to break up with her and add their names to a "hot list" as revenge. The list calls out Jessica as "Worst *ss" and Hannah as "Best *ss," which causes Jessica to lash out at Hannah.
He was Reason #3.
Alex's "reason" may feel more indirectly related to Hannah's narrative, but as she explains — the list subsequently influenced incidents that affected her deeply. Not only did it destroy her friendship with Jessica, it caused a storm of harassment and leads Bryce to grab her butt in a convenience store.
"It seems like nothing. Until the hurricane hits. Because when you put my name on that list, you put a target on my... well, it wasn't just my *ss. You made it open season on Hannah Baker," Hannah narrates, pointing out Alex's passing gag had its consequences.
His personal struggles are shown throughout the season.
Alex appears to exhibit intense guilt and anguish over his actions, Hannah's suicide, and his role in it all. At one point he is seen plunging into a pool for an extended period, nearly drowning. He also gets involved in a physical fight with bully Montgomery de la Cruz.
Actor Miles Heizer touched on the show's portrayal of Alex's mental state in an interview with The Hollywood Reporter, saying,
It was interesting to see similarities between Alex and Hannah, because there are a lot of warning signs throughout the season ... That's another subject that's very rarely shown onscreen and is probably a lot more common than people think it is.
Season 1 ended with a major cliffhanger.
The final moments of Season 1 revealed that Alex was in critical condition due to a self-inflicted gunshot wound to the head.
Hints that he survived are out there.
13 Reasons Why's official Instagram account posted the above photo of a brown-haired Alex on May 7, featuring the caption: "Bit by bit, you put the pieces back together." The page tagged the character's own Insta, @alex.standall, and that account's most recent post is from May 2. One snap is even of a cane and the caption reads, "My new wheels."
We will meet his family in Season 2.
Season 2 will go further into Alex's life and viewers will even get a chance to get to know Alex's mom. Dawson's Creek alum Meredith Monroe has joined the cast as Carolyn, who's been described as "a hardworking nurse and devoted mother."
Season 2 of 13 Reasons Why starts streaming Friday, May 18, on Netflix.