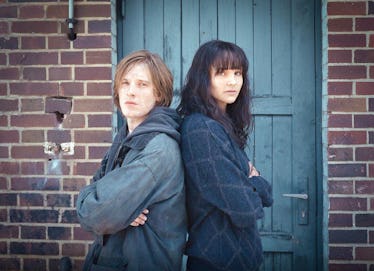 Here's Your Recap Of All Things 'Dark' Before Watching The Final Season
Netflix
Dark is Netflix's current cult hit, a German fantasy and science-fiction story of time travel and fate. The third and final season has arrived, just in time for conspiracy theories fans to drive themselves around the bend looking for clues. But before you dive into Season 3, there are two previous seasons to tackle. So what happened in Dark Seasons 1 and 2? There's a lot to unpack.
First of all, it's important to recap who all is involved here: Dark's mythos consists of "The Four Families." They are the Kahnwalds, the Nielsens, the Dopplers, and the Tiedemanns. The Kahnwald family begins with grandmother Ines, a former nurse, whose father Daniel was the old chief of police in Winden. Her son Michael married his childhood sweetheart Hannah. Their son Jonas is the show's main protagonist.
The Nielsens include father Ulrich, mother Katharina, and their three children: Magnus, Martha, and Mikkel. Ulrich is a detective; Katharina is the local high school principal. Ulrich's parents, Tronte and Jana, had a second son, Mads, who disappeared in 1986.
The Dopplers are introduced first with Peter, Jonas' psychologist. Charlotte, Peter's wife, is the chief of police, and they have two daughters, Franziska and Elisabeth. Charlotte was adopted as a child and raised by the local clockmaker, H.G. Tannhaus. Peter's parents, Bernd and Greta, were the ones who founded the power plant, and his father, Helge, works there.
The Tiedemanns only have Bartosz as a son. The family name comes from mother Regina. Bartosz's father, Aleksander, changed his name from Boris and took his wife's last name. Regina's mother, Claudia, lived with her father, Egon, taking care of him after her mother, Doris, passed away.
Whew. Still with me? Great. Now, let's unweave the twisty timeline so you know exactly what's going on when Season 3 picks back up at the beginning.