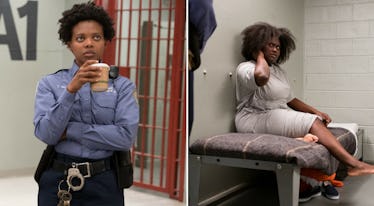 This CO On 'OITNB' Season 6 Has A Complicated History With Taystee
Netflix
Not all of the new characters we meet in Season 6 of Orange Is the New Black are new prisoners; the newly released season also introduces us to a whole new batch of prison guards. While most of the new COs are a super frightening and aggressively violent, one who stands out from the rest is Tamika Ward, who actually seems to be level-headed and understanding. We also learn that she has a history with Taystee, but the specifics on that don't come until a bit later. So, what happened between Taystee and Tamika Ward on Orange Is the New Black? Let's talk about the complicated relationship between the guard and prisoner.
Spoiler alert: This post will discuss plot details from Season 6 of Orange Is the New Black. We first meet Tamika Ward early on in the new season, while the 10 inmates found in Frieda's underground bunker at the end of last season are sequestered in Administrative Segregation (Ad Seg). Right off the bat, she and Taystee acknowledge their shared history together: both women used to be coworkers at a fast food restaurant called Storky's together as teenagers. But now, of course, they have wound up on completely opposite ends of the prison power dynamic. Taystee brings up how any tiny slip-up could have had Tamika on the other side of prison bars alongside her, pointing out that Tamika used to steal from Storky's on occasion. That's a hard truth for Tamika to hear, and she immediately snaps into guard mode, treating Taystee like any other criminal.
Throughout most of the season, Tamika stifles her friendship with Taystee, but that becomes harder to do as Taystee continues on in her trial. Taystee winds up taking the brunt of the blame for the prison riot, and is also saddled with a murder charge after it is revealed that CO Desi Piscatella was shot and killed during the prison raid at the end of last season. Of course, viewers will remember that Piscatella was actually killed by an under-trained police officer during the raid, but the only people who witnessed that are Black Cindy and Suzanne, and Cindy is determined to keep that secret in order to avoid prosecution. So, the blame falls to Taystee, who is the last person that everyone saw with the gun, which she had pointed at Piscatella's head before dropping it.
In a later episode in the season, we get to see a glimpse at what Taystee and Tamika's relationship was like back when they were coworkers at Storky's. The flashback reveals that Taystee had actually always been the one with the leadership ability and the instinct to protect others. When a man came in to rob the store, Tamika hid while Taystee cleverly diffused the situation without giving him any money from the cash register.
In the end, Tamika comes around to be there for her former friend, as she takes time off work to sit in the courtroom during Taystee's trial. It looks like we will be seeing Tamika and Taystee's friendship grow even more next season, which could definitely create some interesting ripples throughout the prison.