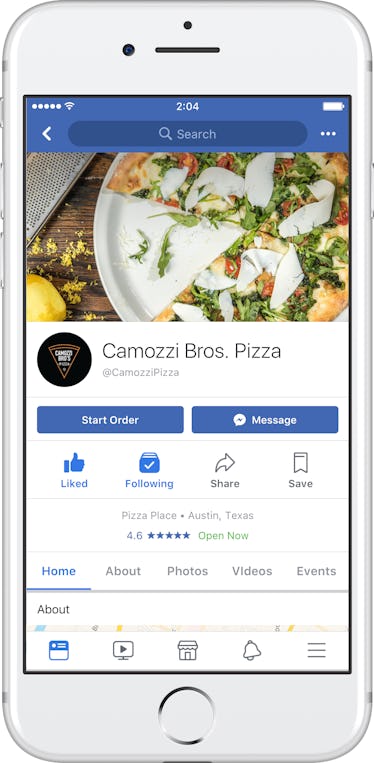 These Are The Restaurants You Can Order From On Facebook With Its New Delivery Feature
Facebook
On Friday, Oct. 13, Facebook announced a very exciting new feature: the ability to order food. I know, I know — it sounds, amazing, right? The only next logical question is, "What food can I order on Facebook?" Even though the company's Vice President of Local, Alex Himel, tells Elite Daily they plan to add more to its launch-ready roster, there are already 17 restaurants and services available for you when you tap "Start Order" on Facebook. Keep reading for a breakdown on the life-changing newness!
What You Can Order
At a media preview ahead of Facebook's public announcement, I got a sneak preview of the restaurants and services the social media platform has already integrated. It's a delicious start, and Himel says the tech company plans to keep updating the feature. Unlike your standard meal delivery app, Facebook has partnered directly with restaurant chains and delivery services to integrate their menus and systems directly onto the platform, giving customers the unique ability to place an order without leaving the app.
"If our goal is to make it so that anyone can find what they're looking for, and the problem is that different restaurants are present on different services," Himel tells us. "We're certainly looking to bring a number of partners together to work with us — and that's chains as well as services." Without further ado, here are all 17 restaurants and services available now, per Facebook's Newsroom post:
DoorDash
ChowNow
Zuppler
EatStreet
Slice
Olo
Jack in the Box
Papa John's
Wingstop
Panera
TGI Friday's
Denny's
El Pollo Loco
Chipotle
Five Guys
Jimmy John's
Yes, CHIPOTLE IS ON THE LIST. According to Himel, the social media platform has been "optimizing for selection and convenience." He tells us, "So for a given area, when you open up the dashboard, [you think] 'Are places that are popular represented? Do we have good coverage and diversity of options?'"
Any restaurants you "Like" will appear on your Explore page, but if you're bored with those options, Facebook will recommend spots in your area, too. (Yes, we are witnessing FB high-key make every couch potato's dream come true.) In a statement emailed to Elite Daily on Thursday, Oct. 12, Himel summed it up perfectly, saying,
People already go to Facebook to browse restaurants and decide where to eat or where to order food, so we're making that easier ... in just a few taps.
Exactly. So beautiful. To quote Justin Bieber's iconic, meme-worthy 2012 tweet, these are my current feelings re: Facebook x food delivery:
so blessed. so moved. so grateful. cant believe this is my life. never going to take it for granted. always going to give back. thank you
I will never take Facebook for granted again, personally. Does their algorithm frequently show me weird videos I didn't ask to see? Yeah, but now that I don't need any other food delivery apps, I have them to thank for my newly freed up iPhone storage and effortless meals.
How It Works
On the off chance you haven't placed your first order via FB, here's a quick little tutorial on how it works. Once you've selected your restaurant, tap "Start Order". Add everything you want to your cart and choose whether you want delivery or pick-up. If multiple delivery options are available, Facebook will give you the option to choose. And yes, you can even log into, say, Delivery.com without leaving the app, too. After your order's placed, all that's left to do is wait for your food to arrive. It's that easy.
Facebook's food ordering feature works on iOS, Android, and desktop. What will you get first?