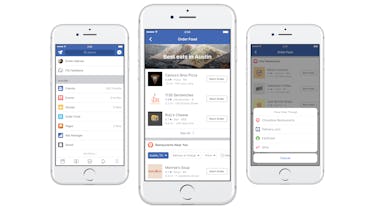 You Can Finally Order Food On Facebook With Its New Delivery Feature, So Eat Up
Facebook
Facebook is known for continuously reinventing itself and catering to its users' needs. The tech company regularly releases updates like — to name a few recent additions — the options to browse videos via "Watch" and upload 360-degree cover photos. However, the brand's new food ordering feature is poised to be life-changing for foodies who prefer enjoying their restaurant meals with a side of wine... on the sofa... and in front of Netflix. Before you race to update your app, let's go over how to order food on Facebook: a crash course.
First of all, the ability to order food is available on all versions of Facebook including iOS, Android, and desktop. Second of all, you don't even have to leave the app to place your order.
How It Works
In order to achieve such a streamlined ordering experience, Facebook has partnered with a number of popular restaurant chains and meal delivery services ahead of the new feature's launch, integrating their menus and systems directly onto the platform. This means that, instead of using multiple apps for your various food ordering habits, you can now use a single one: Facebook.
If, like me, your phone is forever running out of storage, this probably sounds glorious. And it is. I had the chance to try it out firsthand at a media event hosted by Facebook a few days before its release, and trust me, your love for FB is about to blossom.
Alex Himel, vice president of Facebook Local, spoke to Elite Daily about the company's process for developing an in-app food ordering system. "We've really been optimizing for selection and convenience," he says. "So for a given area, when you open up the dashboard, [you think] 'Are places that are popular represented? Do we have good coverage and diversity of options?'" Not only will Facebook recommend some incredible local eateries, but any restaurants you "Like" will appear in your Explore menu as well, making it super easy to start an order.
"If our goal is to make it so that anyone can find what they're looking for, and the problem is that different restaurants are present on different services," Himel tells us, "we're certainly looking to bring a number of partners together to work with us — and that's chains as well as services."
According to Facebook's Newsroom post about the foodie-approved feature, these are the chains and services currently on the platform:
Delivery.com
DoorDash
ChowNow
Zuppler
EatStreet
Slice
Olo
Jack in the Box
Papa John's
Wingstop
Panera
TGI Friday's
Denny's
El Pollo Loco
Chipotle
Five Guys
Jimmy John's
Should your selected restaurant have delivery available through multiple services when you tap "Start Order", Facebook will give you the option to choose one. You can even create a login for a service without leaving FB and place an order for pick-up instead of delivery if you prefer. It's truly an all-in-one experience.
As for the social media giant's plan to onboard even more restaurants and services? Himel tells us, "It takes awhile because we haven't had a product. So we've been working with partners one at a time and integrating them. We're trying to bring on as many as we can."
In a statement sent to Elite Daily via email on Thursday, Oct. 12, Himel summarized exactly what's so beautiful and forward-thinking about the feature. He said,
People already go to Facebook to browse restaurants and decide where to eat or where to order food, so we're making that easier ... in just a few taps.
A FEW TAPS. ON FACEBOOK. That's how easy it is to order food nowadays.