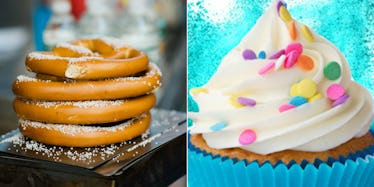 A Birthday Cake Auntie Anne's Pretzel Could Exist, But You Have To Vote For It
Let's be real: Few things beat the taste (and heavenly smell) of a warm pretzel from Auntie Anne's, and there's never been a better time to pay homage to your favorite mall pick-me-up with their 30th anniversary this year. The Pretzel Nation Creation — which previously gifted us Sriracha-flavored pretzels — is here, and I'm so ready to put a twist on my favorite knots. If you're wondering what flavor pretzels are in Auntie Anne's birthday contest, this year's selection of flavors will definitely sweeten the festivities. So grab some birthday candles and get ready to satisfy every sugar craving you didn't even know you had.
According to Auntie Anne's, you have from June 19 through June 26 to choose a winner among the 10 dessert-inspired treats. The finalists were narrowed down from over 650 suggestions during a social media call last month, so you know these ones are the cream of the crop.
First up is a Birthday Cake flavor, which was currently leading with over 7,600 "likes" at the time of publication and showed no signs of slowing down. Auntie Anne's says it best: "Because there's no better way to celebrate our 30th than with a birthday cake… pretzel." While the Birthday Cake flavor seems like it would be the obvious choice in this case (plus, who can turn away blue buttercream frosting and sprinkles?), the Caramel Apple Crème Brûlée is a close runner-up and could easily clinch the top spot with just a few more votes. Out of all the twisted possibilities, I was most curious about this flavor, which is intriguingly described as "The county fair meets five-star restaurant." Depending on how the ratios of the tangy caramel apple with the sweet and crunchy crème brûlée played out, this could either be horrible or the best pretzel ever.
The second runner-up is Red Velvet Cheesecake, which had just over 6,500 votes at the time of publication, and it's unsurprising. While it's not that unique of an idea, is there ever a thing as too much red velvet cheesecake? Never.
Other crowd favorites unashamedly take inspiration from your favorite decadent desserts, with Cookies and Cream, Tiramisu, Pineapple Upside Down Cake, and Chocolate Coconut all falling in the middle of the spectrum. Interestingly enough, the least popular choices are flavors that are not based on classic cakes. Chocolate Covered Cherry (a repeat from last year), Cotton Candy, and Lemonade Cake are currently rounding out the bottom three with just over 1,000 votes each at the time of publication. Basically, there are so many birthday flavors to choose from that you can't go wrong.
To nominate the next winning confection for the Pretzel National Creation, head over to www.auntieannes.com/pretzelnationcreation and make your selection. If you feel really strongly about one particular offering, you're in luck, because you can cast as many votes as you want, according to Auntie Anne's. So let the "liking" commence!
On June 26, the winner will be announced, and I'm mentally preparing myself for all the sugar comas when the final creation is rolled out in stores in the fall.
Honestly, I had my doubts and I didn't think anything could come close to last year's picks, which included doughy twists inspired by s'mores, buffalo wings, and apple pie. I mean, there's no way you couldn't be slightly curious about what a taco-flavored knot would taste like, right? I'll admit that 2017's winning flavor, Sriracha, is going to be a tough act to follow, but who doesn't like a little birthday love? Something tells me that this year's 30th anniversary pretzel is going to be one for the books.