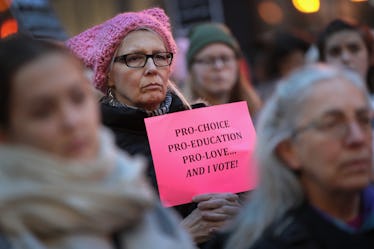 The "Domestic Gag Rule" Could Impact Your Birth Control Access & Other Health Care Services
Scott Olson/Getty Images News/Getty Images
Under a new Department of Health and Human Services (HHS) prposed policy, which is being referred to by abortion rights advocates as a "domestic gag rule," clinics that receive Title X funding, like Planned Parenthood, would lose funding if they provide abortions at the clinic or if they refer patients to others that do. The move is about more than abortion, as the stripping of grant money would impact clinics, doctors, and the men and women they serve all over the country. So, what does the Title X change mean for birth control? The policy will likely have a wide-ranging affect on sexual health information and services in America.
Early Tuesday evening, May 22, the HHS released a statement about the proposed update to Title X. A statement obtained by Elite Daily notes that one of the "key elements" is to require "clear financial and physical separation between Title X funded projects and programs or facilities where abortion is a method of family planning." Another element is that "the proposal would not bar non-directive counseling on abortion, but would prohibit referral for abortion as a method of family planning."
Over 100 health organizations have come out against the Trump administration's plans as well, and organizations like NARAL Pro-Choice America have begun fundraising to help advocate against the rule changes. One of those organizations is Advocates for Youth, a national reproductive and sexual health and rights organization that centers on the needs and voices of young people. I spoke with Diana Rhodes, the director of public policy, in an interview for Elite Daily to parse out the potential impact of this major change to federal funding.
Title X is the only federal grant program that is dedicated solely to providing people with comprehensive family planning and related preventative health services. "It's designed by statute to prioritize the needs of low-income people or uninsured people to have access to reproductive health care services," Rhodes says.
Under the proposed rule change, clinics that receive Title X funding would be forced "to choose between continuing to provide abortion services, and forgoing their Title X funding, or ending abortion services altogether," Rhodes says. Without that funding, many clinics would potentially need to cut programs and services or close entirely.
Young people predominantly use Title X clinics, Rhodes explains (per HHS data, 66 percent of family planning users were under 30 in 2016), so it is young people who will disproportionately be affected by this change. If a clinic loses funding and has to cut back services or close down entirely, it'll be more difficult to get a birth control prescription, IUD, condoms, and so on (as well as the other services they provide). Clinics may also be forced to charge patients more if they lose funding for basic preventive services, which would make forms of birth control more expensive and therefore more difficult to obtain.
The gravity of the situation can't be overstated, and even the American Medical Association has condemned the provision. "We are particularly alarmed about government interference with the patient-physician relationship in the exam room," the organization tweeted in response to the announcement.
It's not just services that are at risk for young people. Rhodes also says that confidentiality protections for adolescents enabled by Title X funding would be threatened. She explains that if a clinic chooses to reject Title X money in order to continue to provide abortion services, the patients' confidentiality rights will fall back to whatever state laws have on the books.
"The fear of accessing services or getting an STI test, a pregnancy test, and the fear of them feeling that their parents will be notified," Rhodes says, "that fear alone can make it so young people aren't actually going to access the services they need."
Meanwhile, the policy change introduces more tedious logistical layers to an already-complicated process for young people. The document that announced the policy change, Rhodes says, is about 130 pages, and she is still making her way through it, calling it "very wonky."
"And then I think about what that actually means for young people trying to just go to a doctor," she says, noting "how hard it is to navigate the patchwork of policies and practices that are happening, let alone if they are trying to access abortion services."
This proposed rule change is another Republican-led effort to suppress reproductive health services — a decades-long partisan back-and-forth that shows no signs of slowing down. Rhodes says the question of whether the fight to protect reproductive rights will ever end keeps her up at night.
"So many of us who are holding the line and doing this kind of advocacy work to hold the line and ensure and protect the rights and well being that have been created so far. And to continue to hold our elected officials accountable." Rhodes says that creative solutions are going to be needed to circumvent the "just-hold-the-line" attitude.
At Advocates For Youth, one such creative solution is an educational, age-appropriate web series about sexual health, called Amaze. It is written, produced, and created by young people.
It's incredibly empowering to youth to know that there are these creative approaches to problems available, in my opinion, and, Rhodes says, "young people are not in the dark on this and are definitely leading in this movement as well." She touts the importance of creative solutions that empower the community to rely less on the government's willingness to do its job.
Demonstrations are already underway nationwide to protest the new proposed federal funding policy, and young people across the globe are in the process of effectuating change. In the midst of bad news, that's something to be proud of.