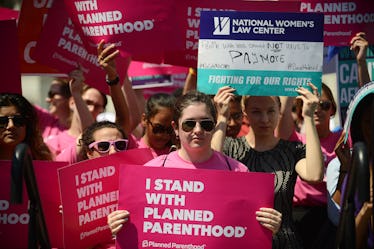 If You're Angry About Trump's "Domestic Gag Rule," Here's How You Can Protest For Women's Health
Astrid Riecken/Getty Images News/Getty Images
The reaction to the White House's proposed rule change for Title X funding has been swift. While anti-abortion groups were quick to praise President Donald Trump for green-lighting the proposal, pro-abortion rights groups have already begun organizing a campaign against the potential rule changes. That means that there's no shortage options for those wondering how to protest Trump's Title X "domestic gag rule," as the proposed rule change has come to be known among critics.
One of the demonstrations against the proposed rule change will be held on Wednesday, May 23, at 5:30 p.m. between members of Congress and supporters and organizers from the Planned Parenthood Federation of America. The demonstration will be held at Capitol Hill, across the street from the Supreme Court, and will feature appearances from six members of Congress: Reps. Diana DeGette (D-Colorado), Barbara Lee (D-California), Judy Chu (D-California), Joe Crowley (D-New York), Lois Frankel (D-Florida), and Nita Lowey (D-New York).
"The grassroots activists are ramping up to show their outrage against the domestic gag rule and the long list of attacks the Trump-Pence administration has launched against women's health and rights," a statement from Planned Parenthood Federation of America announcing the rally reads.
In a press call, Dawn Laguenz, executive vice president of Planned Parenthood Federation of America, also indicated that on Thursday, May 24, Planned Parenthood supporters will be protesting outside the regional offices of the Department of Health and Human Services (HHS) in major cities around the country, including New York, Chicago, Kansas City, Boston, San Francisco, Seattle, and Dallas.
Planned Parenthood is not alone in working to organize against the potential rule change. Over 100 health organizations have come out against the Trump administration's plans as well, and organizations like NARAL Pro-Choice America have begun fundraising to help advocate against the rule changes.
"NARAL is engaging full steam ahead in protesting the domestic gag rule. This is one of those unfortunate moments when our rights are very much under attack, but when our energy and resistance can go a long way in demonstrating just how outrageous and unpopular Trump's policies are," Kaylie Hanson Long, NARAL's national communications director tells Elite Daily. "We will be speaking out and showing up with our allies. Nothing could be more important."
Each of the members of Congress that will be at Wednesday's rally are up for reelection during the 2018 races, which themselves are sure to be used by pro-abortion rights voters as a key method to fight back against the Trump administration's policies.
Of the two chambers of Congress, the House of Representatives is most touted as a toss-up, with both parties having legitimate chances for control come 2019. Because abortion is one of the major issues that Americans lawmakers clearly advocate for or against, voters will have their opportunities to vote in members of Congress who align with their views on the issue this fall (and during the primaries throughout the year — check your local elections). In turn, the result is likely to determine how much power the Trump administration has in aiming to enforce rule changes similar to the Title X proposal in the future.
Laguens confidently indicated during the call on Wednesday that the power of the people is on the side of pro-abortion rights policy. She said,
Planned Parenthood knows that it will actually fail miserably because, as you have heard, we have hundred of members of Congress already stepping forward and saying they reject this gag rule. We know that patients reject this gag rule. We know that the broader American public rejects this rule. Especially and importantly, the major medical groups representing the fullness of the health care community reject this kind of unethical gag rule.
The White House's Title X proposal is also likely to be a subject for Congress members' constituents when lawmakers return to their home districts for the next congressional recess, which is another opportunity for protest. During these recesses, Congress members usually hold town halls where attendees stress the issues that mean most to them. Finding a town hall to attend is as easy as punching in a zip code online.
The term "domestic gag rule" has been used to describe the rule by abortion rights advocates because it intends to prohibit federally funded clinics — i.e. those that receive funding from Title X — from performing or referring women to clinics that perform abortions. Federal funding has not paid for abortions (except in cases of rape, incest, or medical danger to the mother's life) for over 40 years because of the Hyde Amendment.
The rule has prompted an increase of praise from anti-abortion figures who were once skeptical of the president's stance on abortion.
"I'm totally eating my words," Marjorie Dannenfelser, president of the anti-abortion Susan B. Anthony List organization, told Politico. "It's the happiest wrong I've ever been."
The proposed rule would only allow clinics to refer "a woman who is currently pregnant clearly states that she has already decided to have an abortion" to another facility that provides. Such a rule would inevitably lead women to receive incomplete consultation from health care professionals they rely on, critics say.
"With this rule, this administration is trying to instruct doctors about what they can or cannot say to their patients," NARAL Pro-Choice America President Ilyse Hogue said in a statement. "That should alarm anyone who ever wanted to know the facts about their own health care or feel the doctor-patient relationship is sacred and should be protected."
The White House, for it's part, has asserted that it's proposal does not amount to a gag rule. "Contrary to recent media reports," a White House statement read, "HHS's proposal does not include the so-called 'gag rule' on counseling about abortion." That assertion, though, is consolation for pro-choice groups, who are fighting back in more ways than one.