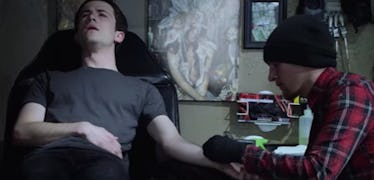 Here's The Significance Of The Semicolon In '13 Reasons Why' Season 2
YouTube
The second season of 13 Reasons Why is almost upon us. After over a year of waiting for answers new episodes of the drama start streaming on Netflix Friday, May 18. Sneak peeks, trailers, and character social media accounts have offered up clues about what to expect from the show when it returns — even executive producer Selena Gomez's emotional lyric video for her song off the soundtrack sheds further light on its future. The clip for her track "Back to You" flashes glimpses at many intriguing moments to come, including a scene where Clay is getting inked. What does the semicolon mean on 13 Reason's Why? Clay's tattoo has a significant message.
13 Reasons Why tells the story of high schooler Hannah Baker, who tragically ends her life, leaving behind a series of tapes detailing the events that led to her suicide. It appears as though Clay's semicolon tattoo is a reference to Project Semicolon, an organization devoted to suicide prevention. If you're wondering why a punctuation mark stands for their initiative, the semicolon symbol is meant when an author chooses to continue their sentence. Here, the author represents a person who has chosen to live their life instead of ending it.
A portion of Project Semicolon's About page on their website reads:
Project Semicolon is an organization dedicated to the prevention of suicide. Our work is based on the foundation and belief that suicide is preventable and everyone has a role to play in preventing suicide. Through raising public awareness, educating communities, and equipping every person with the right tools, we know we can save lives.
It's not just the fictional character of Clay who is donning the semicolon to bring awareness to suicide prevention. Some of the real-life cast of 13 Reasons Why — and Selena Gomez — showed their personal connection to the project when they got semicolon tattoos last April in honor of their TV show's message.
Alisha Bow, who plays Jessica, participated in getting inked for the cause, as did Tommy Dorfman, who portrays Ryan.
"Another day to be grateful to be alive. Alisha, Selena, and I went together to get ; tattoos. The ; symbol stands for an end of one thought and a beginning of another. Instead of a period, authors use the semicolon to continue a sentence. For us, it means a beginning of another chapter in life, in lieu of ending your life," Tommy shared on his Instagram.
The actor who plays Justin, Brandon Flynn, also received the tattoo in solidarity with his cast and crew mates, calling it "a pledge of love and hope for people who deal with suicidal thoughts, depression, addiction, and self injury."
The aftermath and reasons surrounding Hannah Baker's death will continue to be a part of the 13 Reasons Why narrative as the show moves forward, but showrunner Brian Yorkey has revealed that the upcoming season will not depict another suicide. The series will also tackle the topic of sexual abuse more deeply, and focus on the matter of "recovery." Yorkey told The Hollywood Reporter:
Recovery is a central theme for us. So many of these kids had been through traumatic experiences, both due to Hannah's death and also independent of that and just as a part of their lives, and we wanted to begin to see them start back on the road toward wellness and wholeness and see what that looks like in the sense that recovery is not a straight line, and it's not a simple process. That's a central theme of the season.
Season 2 of 13 Reasons Why hits Netflix Friday, May 18.
If you or someone you know are experiencing suicidal thoughts, call 911, or call the National Suicide Prevention Hotline at 1-800-273-8255.