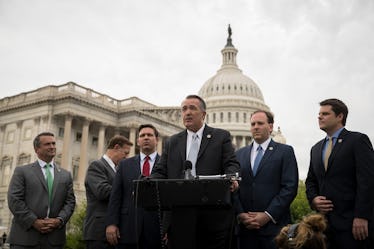 The House Is Voting On A 20-Week Abortion Ban, And Here's Why It's A Big Deal
Drew Angerer/Getty Images News/Getty Images
Women's reproductive rights are again the topic of a bill facing Congress. On Tuesday, Oct. 3, House Republicans plan to vote on an abortion bill that would make the procedure illegal after the 20-week mark in a pregnancy. On Monday, President Donald Trump reaffirmed his support the bill, which if passed, would have huge implications for women's health. So, what exactly would the Republicans' abortion bill do? Let's talk about it.
The bill, sponsored by Rep. Trent Frank (R-AZ), is known as the Pain-Capable Unborn Child Protection Act, or H.R. 36. It places no penalty on women who seek an abortion after 20 weeks, but is punishable by fines, prison time, or both for those who perform or attempt the procedure.
Per the bill's text, the legislation allows for exceptions, but things look grim. Exception are made for cases of rape or incest against a minor that have been reported to a law enforcement or goverment agency; rape against an adult woman; and situations where abortion is needed to save a woman's life. Official documentation, including medical records, are required for the first two exceptions. For the third exception, psychological or emotional conditions do not qualify as life-threatening reasons to perform an abortion. Under the bill, adult rape survivors would have to obtain counseling prior to the abortion.
No exceptions are mentioned for adult or minor cases of rape that have not been previously reported, or cases reported to a non-law enforcement entity -- which would include a college or university.
According to the Congressional Budget Office (CBO), the nonpartisan fiscal analysis group, the bill could have significant financial impacts. The analysis predicts an increase in direct spending on Medicaid due to more births occurring. As for numbers, the CBO writes,
Depending on the number of additional births under H.R. 36, such Medicaid costs could range from about $65 million over the next 10 years to about $335 million over that period. Using an assumption that, under the act, about three-quarters of the abortions that would occur 20 weeks or more after fertilization under current law would instead occur earlier, and the remaining one-quarter would not occur so those pregnancies would be taken to term, CBO estimates that federal spending for Medicaid would rise by $175 million over the 2018-2027 period.
The financial impacts aren't limited to the government, though. One of the leading reasons women seek abortions is financial insecurity, according to health journal MBC Women's Health.
A topic of concern for many advocacy groups, including Planned Parenthood and the National Women's Law Center, is how an abortion ban would force the financial situation of paying for childbirth and raising a child upon many women who cannot afford to do so. The added cost of required counseling may increase that burden as well.
Other concerns rest on the constitutionality of the bill, which advocacy groups say erode the right to an abortion established by Roe v. Wade, as well as determining a woman's future for her.
While the title of the bill is all about pain for an unborn child, the American Congress of Gynecologists and Obstetricians (ACOG) has debunked this. As they write in a July 2013 letter, human fetuses don't have the capacity to experience pain until after they are viable — well past 20 weeks of development.
Trump had previously stated his support for the bill back in a September 2016 campaign letter, and reiterated it on Monday.
Not everyone is for the bill. Most Democrats, The Hill reports, oppose it, including Rep. Lois Frankel (D-FL), who on Tuesday morning tweeted about it.
Per The Hill, the House passed similar legislation before in 2015, but it was stopped by Senate Democrats. The House, with a huge Republican majority, is expected to pass it again Tuesday. It will likely face an uphill battle in the Senate, as Republicans need 60 votes to pass it and hold only 52 seats.