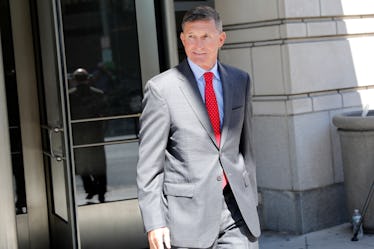 This Detail From Michael Flynn's Sentencing Memo Could Spell Bad News For Trump
Aaron P. Bernstein/Getty Images News/Getty Images
Needless to say, President Donald Trump has not had the easiest few weeks. As of Dec. 4, the public got more details about how a former member of the Trump administration has come forward to cooperate with Special Counsel Robert Mueller in his ongoing investigations, and this could be the most impactful one yet. So, for those wondering what does Michael Flynn's sentencing memo mean for Donald Trump? Things could get very interesting.
On Tuesday, Dec. 4, Special Counsel Robert Mueller filed a two-part sentencing memo for Donald Trump's former national security adviser, Michael Flynn. Even though the memo was heavily redacted, this sentencing recommendation proves that Flynn served as a key figure in providing information to Mueller and his team about ongoing investigations. Due to Flynn's cooperation, prosecutors recommended that the former national security adviser should receive the minimum (or no) prison time for his guilty plea regarding lying to federal investigators in December 2017. Importantly, prosecutors said on Dec. 4 that Flynn's decision to plead guilty and assist with the ongoing investigations might have prompted other key figures to cooperate with the investigation as well.
If Flynn's guilty plea and cooperation pushed others to come forward and tell Mueller about anything they knew about their knowledge about the Trump team's operations, both past and present, it could spell seriously bad news for the president. Of course, due to the amount of redactions on the memo, we're still unsure of what Flynn may have said about the president, or anything else for that matter. Curiouser and curiouser. Elite Daily reached out to the White House for comment about the sentencing memo, but did not hear back in time for publication.
"The defendant's decision to plead guilty and cooperate likely affected the decisions of related firsthand witnesses to be forthcoming," prosecutors said.
This story just keeps getting more and more interesting.
News that Flynn's cooperation with Mueller might have influenced other parties to come forward couldn't have come at a more impactful time, as other people close to Trump have openly been speaking to the Mueller investigation about the president. Although there's no evidence that the two pleas are connected, on Nov. 29, former Trump lawyer Michael Cohen pleaded guilty to "making false statements to Congress," regarding plans for a Trump Tower deal in Moscow, Russia, during the 2016 presidential election. The real-estate deal was never finalized; however, this topic has been a key topic of interest to Mueller throughout this investigation in finding out whether the Trump campaign team actively colluded with with Russian operatives during the election, since it could prove that Trump had a financial interest in Russia at the time. However, as of Dec. 5, Trump has not been formally accused of, or charged with, any crimes. Elite Daily reached out to the White House for comment about Cohen's guilty plea at the time, but did not hear back.
Cohen's second guilty plea came as a shock, but at this point, nothing involving this ongoing investigation should be surprising. Even though this Trump-Mueller drama has been a total roller coaster ride, let's take a walk down memory lane to last December. On Dec. 1, 2017, Flynn pleaded guilty to lying to the FBI about speaking to a Russian ambassador in December 2016. Once pleading guilty, Flynn relayed in reports that he'd be willing to cooperate with investigation, and boy has he apparently lived up to his end of the bargain.
The special counsel's investigation has been on everyone's minds since it kicked off last year. To be honest, sometimes it feels like it'll never be over. However, judging from these new developments, we might be seeing some closed cases in the very near future.