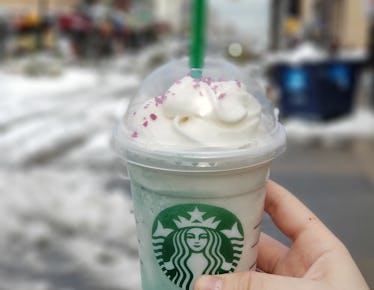 I Tried Starbucks' Crystal Ball Frappuccino & Here's What It Really Tastes Like
Lizzy Rosenberg
In this world, there are some psychics who brag about being able to predict what's going to happen in the future, while others simply dabble in mind-reading. Then, there are the types of highly-specialized psychics (like myself) who are gifted with what's known as gustatory perception... aka, the ability to taste things — and trust me, it's a highly-sought after talent. So if you're absolutely dying to find out what Starbucks' Crystal Ball Frappuccino actually tastes like, get ready, because you're in for an incredibly mystical (and super tasty) ride down Starbies lane.
On March 22, the world of beverages was essentially flipped upside down when Starbucks introduced the Crystal Ball Frappuccino, which is basically their most mythical drink known to mankind. For four days only (March 22 to March 26), Starbucks fans and psychics alike can indulge on this swirly blue frappuccino, which — so far — has been described as "peachy" and also "Instagram-worthy." But if you're trying to find out how it really tastes, look no further. I have actually been given the opportunity to get my hands on one... and with my powers, you'll know how it tastes in a mere matter of seconds.
I am now standing in my favorite spot in the world, which is in line at Starbucks, and I'm about to order the Crystal Ball Frappuccino. Now that it's my turn, the barista seems to sense the magic that's about to happen and acknowledges it with a smile. When my order is being made, I can tell that it's going to be electrifying. From afar, I can see that the contents in my Grande to-go cup are white with blue swirls, and my first thought is that it might actually be the Instagrammable drank of my dreams. I can't feel my fingers... is that normal? Is this what it would have felt like if my Hogwarts invitation hadn't gotten lost in the damn mail? Whatever. The excitement is way too real RN, and my taste buds are quite literally tingling with anticipation.
As I wait for my drink, the suspense is totally killing me — because in case you haven't already heard, each sprinkle topping color means something different... so I'm mentally preparing to hear my destiny. I'm fully depending on this drink to determine my wellbeing, so we'll see what the future actually holds for me. Wish me luck, you guys.
OK, so I got a purple topping. This means that magic, wonder, and enchantment are headed my way. The online release also says it means that owls are in my future, which I'm not entirely sure about... but maybe my dreams of owning a Hedwig messenger owl are finally coming true, so that would be pretty cool. Anyway, aside from the magical topping, the drink has blue swirls and it looks positively mysterious and lovely. I'm obsessed with the aesthetic, so I obviously take lots of selfies with the drink before giving it a taste.
The verdict? It's peachy keen! The base literally tastes like peaches, and with whip on top literally tastes like peaches and cream. I highly recommend it if you're all about peaches and summertime... which is totally my vibe right now. As a summer lover, I'm kind of obsessed.
Among life's pleasures, there's truly nothing better new Starbucks drinks... especially when they come in the form of a peachy AF crystal ball, for that matter. I would definitely recommend ordering one (or like, eight) fast though, because they're only available for a mere four days. And even though I unfortunately cannot foresee the future, I can totally predict that you're gonna love 'em.