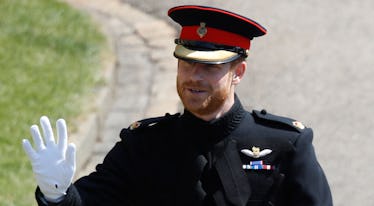 Prince William's Royal Wedding Outfit Differed From Prince Harry's In One Major Way
WPA Pool/Getty Images
The day is finally here! Prince Harry, Duke of Sussex and Meghan Markle are about to walk down the aisle and become royal AF. Obviously, there are a lot of moving parts involved with making a royal wedding go off without a hitch and Kensington Palace has seriously been holding things DOWN — especially with all the family drama that's been coming out of the woodwork in the days leading up to the wedding. Prince Harry is definitely going to appreciate having his best man — his brother Prince William, Duke of Cambridge — by his side on his big day. And as hard as it's going to be to peel our eyes away from the gorgeous couple saying "I do," there's definitely time to check out Prince William's royal wedding outfit!
It's traditional for princes to wear a military uniform with their military medals when they walk down the aisle, and Prince William isn't one to mess with tradition! So much like the brothers did when Prince Harry served as Prince William's best man when he married Kate Middleton, Duchess of Cambridge in 2011, the princes once again showed off their customary military garb at the wedding — only Prince Harry's the one saying "I do" this time.
Prince Harry and Prince William are twinning it at the younger brother's wedding, both wearing the frockcoat uniform of the Blues and Royals. But William has nifty ropes on his (as not to look too twin-like).
Don't they look like total studs in their matching uniforms? I absolutely CANNOT DEAL.
The brothers wore similar ceremonial military garb for Prince William's nuptials back in 2011. The older brother wore the red uniform of Colonel of the Irish Guards while Prince Harry rocked the Blues and Royals uniform.
And Prince Harry looked like he was having a hell of a time, too. Prince William definitely has some big shoes to fill. Best man goals right there.
The announcement that Prince William would serve as Prince Harry's best man (returning the favor, I guess) came from Kensington Palace on April 26 when they tweeted: "Prince Harry has asked his brother The Duke of Cambridge to be his Best Man at his wedding to Ms. Meghan Markle."
The announcement shocked all of nobody (I mean, they're brothers, after all). What was shocking, however, was the absolutely adorable picture Kensington Palace shared of the brothers as kids wearing police hats and looking as if they were always prepared for this very day!
TOO CUTE.
It was also announced that Prince Harry's nephew and niece, Prince George of Cambridge and Princess Charlotte of Cambridge, would serve in the wedding as a page boy and a bridesmaid. And are they going to look adorable.
They also filled the role at Kate's sister, Pippa Middleton's wedding. They're really good at it, too. Just look how cute and well-behaved they were!
Basically, this family knows their way around a royal wedding. They show up dressed to the nines and slay the game. No surprise.
But as good as Prince William, Prince Harry, Prince George, and Princess Charlotte look in their wedding garb, I'm sure no one will look more stunning than the bride herself: Ms. Meghan Markle.
She did the thang. I mean, look at her!
Are you shook, or are you shook? Because Prince Harry was shook. Prince William was shook. Everybody was shook. Just imagine standing beside her in absolute awe of what they have the magnificent privilege to behold.
Boy, I'm going to miss this when royal wedding season is over.