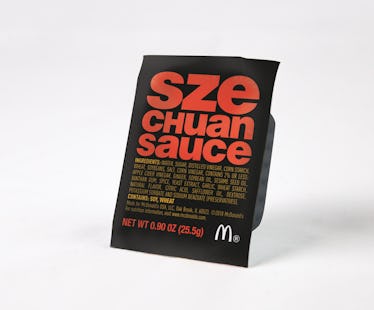 You'll Either Love Or Hate McDonald's Szechuan Sauce, & I Can't Make Up My Mind
McDonald's
I'd like to call the attention to all Rick and Morty addicts, as well each and every single Mulan fan out there: as I'm sure you've probably heard all of the buzz, focused around McDonald's limited edition Szechuan sauce, you're most likely dying to try it. But "don't even trip, dawg," because I've taken the time and liberty to research what McDonald's Szechuan Sauce actually tastes like, in honor of its latest rerelease. And despite the sauce's raging popularity, the reviews are actually a little more mixed than I had personally imagined.
Unfortunately, I didn't get the chance to stand in line at McDonald's for the latest rerelease of Szechuan sauce on Feb. 26, or in October 2017, when it made a short (and extremely chaotic) comeback. And, when it originally came out in the 90's to advertise the release of Mulan, I was about four years old, and strictly stuck to ketchup as my condiment of choice. But seeing as the highly sought-after dipping sauce has racked up a decent amount of hype, I've decided to delve into the world of very, very opinionated fast food aficionados. Even though some people really seem to love the Szechuan sauce, "what people call 'love' is just a chemical reaction that compels animals to breed," as Rick once said. The bottom line is that opinions about the sauce and how it tastes are incredibly diverse.
The ingredients of McDonald's Szechuan Sauce, per Eater, include water, sugar, distilled vinegar, corn starch, wheat, soybeans, salt, corn vinegar, contains 2 percent or less: apple cider vinegar, ginger, soybean oil, sesame seed oil, xanthan gum, spice, yeast extract, garlic, wheat starch, natural flavor, citric acid, safflower oil, dextrose, potassium sorbate and sodium benzoate. Basically, we can expect it to taste like ginger, as well as garlic and citrus. Based on the fact that many it's tangy, the ginger and citrus really seem to shine through, according to reviews.
There are many out there who absolutely love McDonald's Szechuan sauce. Michael Walsh from Nerdist thoroughly enjoyed McDonald's Szechuan sauce, claiming its phenomenal taste somehow managed to surpass its enticing aroma. After dipping Crispy Buttermilk Tenders, Chicken McNuggets, and French fries into the luscious concoction, Walsh essentially sounds like he licked the container clean. Walsh wrote that,
[I]t was even better than its enticing aroma predicted. It isn't nearly as sweet as I expected, but isn't salty like soy sauce either. It has a nice balance, and is more tangy than anything else. You can definitely taste the ginger, even though it lands halfway down the ingredients list.
Walsh seemed to be a big fan of the sauce, and that's seems to be how most fast food enthusiasts, as well as Rick and Morty lovers, feel about it, too. Based on this review, now might be the time to try and track some down, and to just "get schwifty."
In terms of negative Szechaun sauce reviews, however, Robert Sietsema from Eater gave the sauce a major thumbs down. In addition to claiming it tasted like a depressing combination of corn syrup and Worcestershire sauce, Sietsema felt that it added nothing to the classic McNuggets, fries, or burgers.
Sietsema said,
... It didn't improve the flavor of the stupefyingly bland McNuggets, either. I dipped a fry in, and later poured some on a burger, where it clashed with the ketchup, raw onions, and dill pickle chip... flavors like cumin and cilantro should be been present, too. All of these things and more, McDonald's Szechuan sauce totally lacks, at least to my taste. You might just as well pour this Szechuan sauce on pancakes.
Others, like Allison Sanchez from Uproxx, think that the sauce is pretty good, but not worth the hype. She did mention, however, that it's better than sweet and sour sauce, and that's saying something. But when push comes to shove, Sanchez doesn't think it was worth the riots, but it was good nonetheless. I feel like that's a pretty normal reaction to dipping sauce of any kind. She wrote,
The Mulan Szechuan sauce is good! Definitely better than sweet and sour sauce, though, maybe not as magical as I imagined it would be. It works well on the chicken strips, but not particularly good on fries... But who's to say what's worth rioting. Not me.
Sietsema from Eater may have not liked the sauce as much as Walsh from Nerdist, or even Sanchez from Uproxx, but regardless, do as Rick does, and "rip that band-aid off now... you'll thank me later." Because in all honesty, you'll regret not tracking some down and trying it while its still available, in some places. It might not be around for another decade (again), so I definitely recommend making an effort to try some for yourselves.