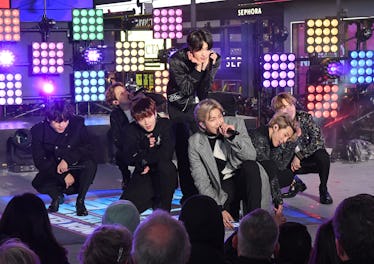 BTS' New Album Title Is Even Better Than ARMYs Ever Expected
Lorenzo Bevilaqua/Walt Disney Television/Getty Images
To the BTS ARMY, it feels like BTS has been teasing their 2020 comeback forever, but, in reality, it's only been about a month since they really ramped up their subtle hints in interviews about recording music and preparing new stages. Considering fans already came up with two promising theories for BTS' second album title in their Map of the Soul series (they had their money on Ego or Shadow), you can't really blame them for getting antsy while they waited endlessly for the actual title. Well, on Jan. 7, Big Hit finally gave ARMYs the details they've been waiting for: BTS' upcoming album is called Map of the Soul: 7, and it'll drop on Feb. 21. The title is not at all what ARMYs were expecting, so, now, fans are scrambling to figure out what BTS' album title Map of the Soul: 7 means, exactly.
Even though the title just arrived, ARMYs already have tons of theories about the deep meaning behind it. But first, let's take a moment to pay respects to the album titles the BTS ARMY has lost: Shadow and Ego. From the moment Map of the Soul: Persona dropped in April 2019, ARMYs were all but certain those were the only two options for BTS' followup. Now, fans are keke-ing because BTS has, once again, made clowns out of the fandom. Keeping it real: ARMYs are pretty used to this feeling after seven years with BTS.
Once ARMYs got over being duped for the past nine months, they realized the title 7 actually has so much meaning.
First of all, ARMYs may not have been totally off with their Ego theories. As it turns out, the word seven in Korean is 일곱, or ilgop. When pronounced in Korean, it sounds somewhat like — you guessed it — ego.
BTS' Map of The Soul series takes inspiration from Murray Stein's book Jung's Map of the Soul, which covers Carl Jung's psychological theories about the different archetypes of the human psyche, including persona, shadow, and ego, to name a few. While fans thought Shadow was the next album in the MotS series because BTS featured imagery of shadows prominently in their 2019 end-of-year performances, they realized the shadows were actually projections, which links to Jung's theory of "ego" better.
If BTS did, in fact, intend for the Korean pronunciation of the word seven to be a play on the word Ego, the album title takes on even more meaning. But many Korean native speakers on Twitter are pointing out that the correct pronunciation of ilgop is not exactly "ego." So the similarities non-Korean-speaking fans are hearing may not have been intentional.
Beyond that, the number seven is inherently meaningful to BTS and the ARMY since the group has seven members: Jin, RM, Suga, J-Hope, Jimin, V, and Jungkook. The band has been together for seven years.
Fans also believe MotS: 7's visual and lyrical concepts may take inspiration from the seven deadly sins, or Jung's book Seven Sermons to the Dead.
As always, there's a lot to unpack here when it comes to the meaning behind BTS' new album title, but the ARMY is so ready to take a deep dive into every single detail the boys share leading up to the album's release on Feb. 21.