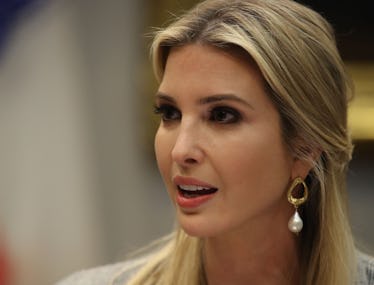 I'm Kind Of Confused About What Ivanka Trump Does In The White House Every Day
Mark Wilson/Getty Images News/Getty Images
Everyday is bring your daughter to work day in President Donald Trump's White House. Not only is Ivanka Trump the first daughter, but she's also a full-fledged member of her father's staff with some sweet digs in the West Wing. Which begs the question, what does her job actually entail? Don't worry I'm here to give you a rundown. So, what does Ivanka Trump actually do at work every day? It's not super clear, but it doesn't seem to be particularly intense.
Officially, Trump's a senior adviser to the president, but I'm a little foggy on what that actually means. When Trump formally became an employee of the government, I figured she'd work on the issues she said were important to her on the campaign trail: wage equality, education, childcare, paid family leave, and being a somewhat moderate voice in her father's White House. But, with the hectic and tumultuous nature of President Trump's presidency, whatever Trump is doing doesn't get much air time.
To tell the truth, the responsibilities of her position seems a little nebulous. The role of "senior adviser" can encompass a lot of things, and senior advisers under previous presidents have worked on everything from communications to climate change policy to overseeing White House offices. We know that she weighs in on the issues of the day, since there have been reports of the first daughter walking into her dad's office to ask about policy on things like separated migrant children.
But mostly, it seems like she glad-hands politicians and does photo ops with groups on the subject of entrepreneurship or STEM education. Trump's Instagram is full of photos of Trump sitting on panels or speaking at events on the subject of jobs, entrepreneurship, and education, and occasionally posing with political figures like Israeli Prime Minister Benjamin Netanyahu or Ambassador to Germany Richard Grenell. In her bio, she currently describes her as an adviser on job creation, economic empowerment, workforce development and entrepreneurship.
On the few occasions when she's really taking point on big policies, it's often seemed to fizzle. In February 2018, Trump and Florida Sen. Marco Rubio were coming together to devise a plan to have six weeks of paid family leave that would be funded from social security benefits. The plan, however, came under fire for supposedly only benefiting the upper-middle class and leaving lower income people in the lurch, according to Business Insider. As of the summer, the plan still seemed to be in limbo, and at a July 11 hearing on the issue legislators on both sides of the aisle agreed that something ought to be done, per the Huffington Post, but there was no agreement on what that "something" was.
Before she took on a role in the White House, Trump was committed to some issues that seemed to be women and family centric, so many people were hoping to see her working on that on the daily — but it hasn't really happened. Beyond her lack of progress on issues like family leave, she's also stayed quiet on issues that would effect women. For example, when her father's administration decided to roll back an Obama-era policy that required companies to report to the government what they pay their employees organized by race and gender, according to The Washington Post. This policy, although not a quick fix for closing the wage gap, would have helped highlight the extent of the problem. For her part, the first daughter released a statement saying that she doesn't think the Obama-era policy would "yield the intended results." The statement read in part,
Ultimately, while I believe the intention was good and agree that pay transparency is important, the proposed policy would not yield the intended results.
The truth is, it's not all that clear if Trump really wants anything to do with politics. In June interview with Politico, the first daughter says she tries to "stay out of politics," which could account for her fairly lackluster participation in her father's White House, despite her fervor during the 2016 presidential campaign.
Well, she'll always have those photo ops. Have fun on all your panels, Ivanka.