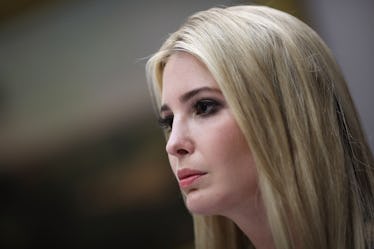 Ivanka Trump Reportedly Donated To A Church Helping Migrant Children At The Border
Win McNamee/Getty Images News/Getty Images
The Trump administration's "zero tolerance" immigration policy has sparked plenty of backlash since news broke that around 2,000 immigrant children have been taken from their families at the border and sent to cage-like detention centers. Since the president signed his June 20 executive order amidst calls for justice from both sides of the political spectrum, all eyes have been on the Trump circle... especially Ivanka. While the self-professed advocate of women and families has been criticized for keeping quiet, Ivanka Trump's reported donation to Prestonwood Baptist Church suggests that she may have been making her own undercover stand on the controversial immigration policy.
According to CBN News, the first daughter donated $50,000 to a Plano, Texas church that's reportedly working to help the 1,995 displaced children at the border, and the timing suggests that she could be making her boldest statement on her father's policy yet. Citing "An evangelical leader who asked to not be named," the publication claims that Trump privately sent the amount to Prestonwood Baptist Church pre-executive order after learning about the church's mission via Twitter.
On Tuesday, June 19, Pastor Jack Graham — who previously Tweeted that the "hand of God" played a part in President Trump's election — took to the social media platform to reveal that they are hoping to help the immigrant children separated from their families at the border.
We @Prestonwood are currently working to provide solutions to care for children during this terrible immigration crisis. Our Espanol ministry let by Gilberto Corredera is stepping up to the challenge to express the love of Jesus. We are broken-hearted and determined to act.
According to CBN News, Graham confirmed that Ivanka was moved by the plea and quietly made a donation before President Trump signed an executive order halting the action — so maybe, just maybe, the Twitter silence and tone-deaf Instagram photos weren't entirely indicative of what she felt, after all.
I headed over to Prestonwood's website to learn more about what actions they are taking to help migrant children reunite with their families. In an effort to learn more about their plans, Elite Daily reached out to the church for comment, but didn't hear back at the time of publication.
The news of her reported undercover donation is notable, because it emerges amidst heavy criticism for Ivanka Trump's passive response to the human rights crisis.
New York Times reporter Maggie Haberman says that Trump had approached her father on June 19 and basically said that the heart-wrenching photos of the displaced kids look bad for the administration. However, Ivanka didn't publicly speak out on the matter until President Trump signed an executive order halting the family separations at the border on June 20, and people were not having it when she tried shifting responsibility to Congress.
I think that we can agree that bad PR or not, that's the least of our worries when it comes to this crisis. Plus, the responsibility isn't exactly on the shoulders of Congress, as a law didn't exist that required families to be separated at the border until her father took control of the presidency and implemented his "zero tolerance" immigration policy.
It's notable that both Ivanka Trump and Pastor Jack Graham were silent on the migrant family separation until President Trump signed the executive order on June 20, after which the Prestonwood church leader took to Twitter to share words of praise for the president's decision.
In light of this donation, I'm hoping Trump and Graham's initial silence were meant to convey disapproval, not tacit acceptance. But only time will tell if Ivanka continues to put her money where her mouth isn't, and continues to work to reunite immigrant children with their families.